You guys are the greatest. Thanks for all the feedback yesterday on Monica's post about long-distance relationships…it's so nice to know we can share our hearts and have them received so lovingly! And, for the record, Monica is very hard on herself. That's all I will say about that.
……………………………………………………………
On to more lighthearted, less important things, people!  My living room furniture.  So this is the armoire that we have in our living room. It's actually an old cheap computer desk from KMart that we hastily painted with chalk paint and threw into the living room to store some of the kid's toys. It works...okay. To be honest, the quality of the piece is laughingly poor, and the color just isn't right.
This is the kind of picture that I kind of inwardly cringe about….it's so not "finished" or pulled together the way we would do it for Knock It Off, but it's real life, so I'm trying to embrace it. My house has always been and will continue to be a work in progress as funds and time allow. But even in it's unfinished state, I do love this house. Welcome to the mish-mash that is my brain. 🙂
That chair isn't staying there. It's one of 3 chairs that I keep trying out in that spot. And I'm thinking of going a bit darker with the wall color, even thought it's the most asked-about paint color on this blog.
See how that armoire sticks out so far? I've never loved that the side of it is the first thing you see when you walk into the room.
 Monica and I have to do a lot of shopping for our episodes so I casually keeping my eyes open for something. We were at our favorite thrift store, Liberty Thrift and I saw this little beauty.
Ahhh, I love it! The legs, the details, the hardware (even thought it's missing several!). So pretty! It's really old and has yellowed with age but  its still functional and has such great bones.
Here's my problem. I don't like the color, but I can't figure out what to do to it. I'm pretty sure I want to go with a wood tone, so I stained a piece of scrap wood with three stains I had on hand: Rustoleum Deep Walnut, Rustoleum American Walnut and Cabot custom blue/gray stain.
I took them into the room to see which I liked better and guess what?! I still don't know what color to do. I'm leaning towards the light blue/gray, but ugh, help a girl out!
 I rounded up a few inspiration pictures of furniture that I really like- all with a different color stains.
Weathered Grey via Country Living
Dark grey via KB Home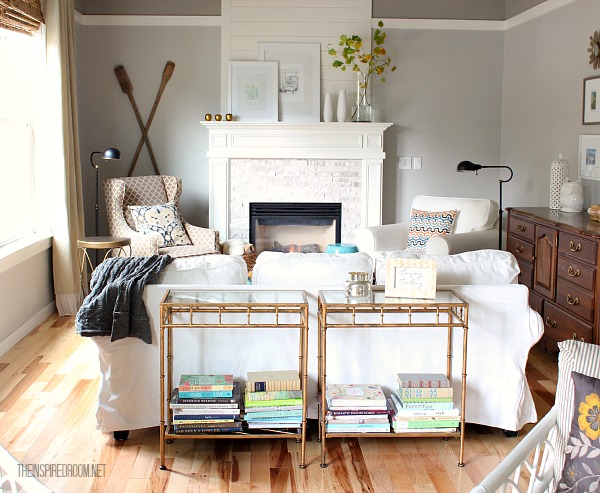 Walnut via The Inspired Room
What do you think? I'd love to hear your thoughts…soon! I'm hoping to get working on this thing this weekend and need some direction. 🙂
Ever get stumped by a piece of furniture?