HEY GUYS! THIS POST IS PART OF THE WEEKENDER MAKEOVER SERIES. A DIY MAKEOVER WEB SERIES IN PAID PARTNERSHIP WITH LOWE'S HOME IMPROVEMENT. YOU CAN WATCH SEASON 1 , 2 & 3 ON YOUR STREAMING DEVICES OR BY SUBSCRIBING TO LOWE'S YOUTUBE CHANNEL.
---
This week I headed to help out Karen & Henrique in their adorable row home in downtown Philly. Karen and Henrique both work in the legal field, so they're pretty busy to say the least, and their little one keeps them even busier! When we came to their house, Karen was pregnant and ready to pop any day, so I definitely needed to get this makeover done in a weekend!
Karen & Henrique are pretty health conscious and love to work out. Their home gym was in their basement, but it was just a few weights and pieces of equipment tucked in the corner– not very motivational. They wanted a space where they could get their workout on, but also a space where their little one (soon to be two) could hang out while mom and dad break a sweat.
(Source)
I've gotta say, I've never done an exercise room makeover before, and I knew it was going to be a little tricky incorporating the existing exercise equipment in with the new parts of this room, but nothing a Weekender can't handle! For this room, I wanted to lighten and brighten since it is a basement space with not a ton of light while making it a space for both mom and dad and the kids!
Before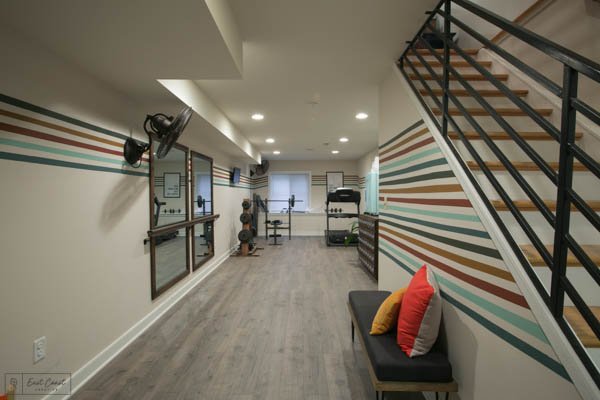 After
Before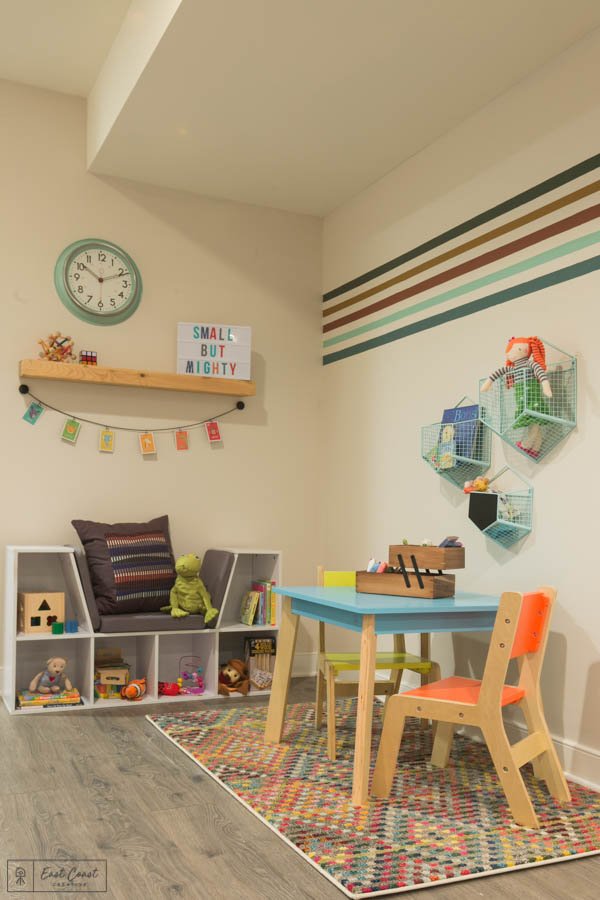 After
Before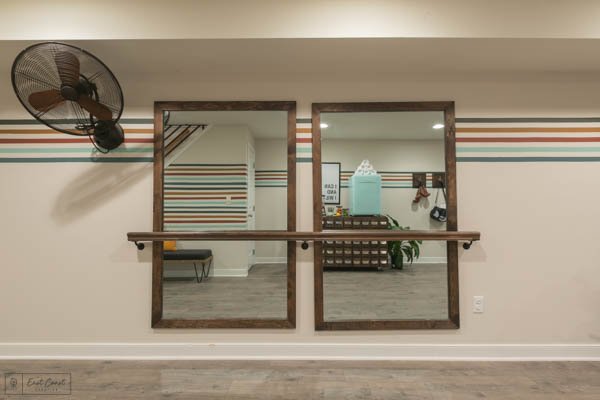 After
Before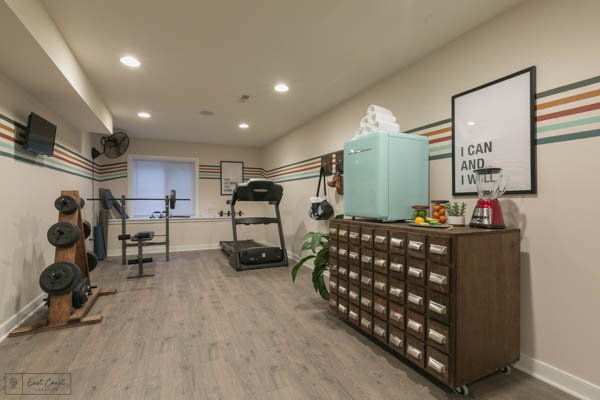 After
Holy moly, did this room change with just 5 projects! Get all the details on all of them below…
Typically a carpeted basement is a great feature, but for a home gym? NOPE. Sweat + carpet is a terrible mix, so bye bye carpet! We tore that bad boy up and replaced it with this Pergo MAX Sterling Oak Wood Plank Flooring. The installation is super simple, just click, lock and using a mallet, pound into place– voila! This flooring is going to be super durable and really easy to clean, making it the perfect solution for Karen + Henrique's home gym!
The neutral wood tone really works with the other wood tones and stain colors we brought into the space.
We first lightened the base wall color of the basement with HGTV Home by Sherwin Williams White Cottage Interior paint which was going to allow our color stripes to really pop!
Using a level or chalkline and some 3M Safe-Release Platinum Painter's Tape, we measured out where we wanted our color stripes, approximately 3/4 of the way up the wall.
A great tip for painting precise accents and keeping clean lines like this is to first go over your painter's tape with the base color to seal the tape to the wall before you put the color down. Trust me– I've learned this tip the hard way (can you say major paint bleeding?!)
Love these colors as much as I do? Here's what we used:
HGTV Home by Sherwin Williams Shade Grown
HGTV Home by Sherwin Williams Antiquarian Brown
HGTV Home by Sherwin Williams Aloe
HGTV Home by Sherwin Williams Riverway
HGTV Home by Sherwin Williams Red Barn
Mixing some 70's vibes with some modern, bold posters is the perfect way to add a whole lotta motivation to this space!
These stripes were a great way to tie this whole space together as we had a space at the other end of the basement for the kids to play while mom and dad get their workout on! Lots of color and funky kid furniture was a must, and that functional and stylish KidKraft Bookcase with Reading Nook? One of my favs!
And how adorable is this little KidKraft Modern Table & Chair Set?! I mean, I'd totally have a seat here while everyone works out, don't have to ask twice!
Stretching is a crucial part of working out, so I had the idea of combining mirrors with a stretching bar to watch out for that perfect form!
We started by mounting 2 of these Style Selections Wall Mirrors with some Loctite Mirror Adhesive to the wall, leaving some space around them to frame them out with some 2×3 boards.
Taking 4, 2×3 boards and cutting each at a 45-degree angle, we basically built a frame for each mirror to give them a little more style. We pre-stained the boards before we cut and installed, but make sure you allow proper time for the stain to dry and soak into the wood.
Once the mirrors were installed, we took a pre-fab Handrail (which we also pre-stained) and mounted it to the wall in front of the mirrors with these Gatehouse Handrail Brackets which are super heavy duty and will totally hold up to some use!
A little trick about mirrors if you didn't already know– they can make a space appear larger and more open, so these have double purpose– win, win!!
Everyone's gotta take some breaks when they work out, especially when you're as dedicated as Karen & Henrique are! I wanted to give them a space where they could store extra towels, snacks and clothes for all their workout needs. Oh yeah, and this Compact Mint Green Refrigerator is a plus too!
Let's talk about this cabinet first, shall we? It's a build that looks like a million bucks, and I'm telling you it's super easy to build. Starting with a plywood base, we built a box screwing all sides together for a secure hold, keeping the front open for attaching two hinged doors. Simply cutting two more pieces of plywood, half the width of the cabinet box, we attached some cabinet door hinges and screwed those onto the front of the box.
Now for the drawers– they're faux drawers! We cut a bazillion little squares of pine board the size of catalog drawers, and used a nail gun to attach them to the front of each cabinet door. Once this whole piece was stained and dry, we attached a Sumner Cup Cabinet Pull to each "drawer" so it was totally believable and super stylish. This project will cost you a bit more than most DIY projects, but you're still going to save tons of money making it yourself vs. buying it at a home decor store.
I'm loving that card catalog look!
Who says you can't treat yourself a little after a good workout?!
I  made these little wall hangers out of pieces of pine boards cut into squares, and simply attached a coat hook to each for a unique way to hang and display all your stuff!
Let's face it… weights aren't pretty. Honestly, I don't think any gym equipment is pretty, it's actually pretty ugly. BUT we created a simple and pretty stylish solution to store Karen & Henrique's weights just using some pine boards and galvanized pipe.
Starting out with 2, 2×6 pine boards, we created the top part of a triangle and attached each end to a base piece. Adding two horizontal base pieces and two more cross pieces for added support, we added some Minwax Dark Walnut Stain to the whole rack, and used some Galvanized Pipe Fittings to store the weight pieces on the rack. Durable and industrial, and now they all have a place that's not scattered on the floor!
Oh, and check out these allen + roth fans! They're corded, so once they're attached to the wall, you simply plug in and you're ready to go!
Check out some of the great products we used in this makeover…
[print_responsive_thumbnail_slider id="40″]
I didn't get out of this one without a quick push-up contest with Henrique! This space was totally transformed into the home gym they've dreamed of but never had the time to do. Hope you're inspired by this makeover too!
-Mon
Don't miss a single Weekender Episode of Season 3! You can watch all Season 1, 2 & 3 Episodes right HERE!
Photography: Max Grudzinski Photography
SaveSave