HEY GUYS! THIS POST IS PART OF THE WEEKENDER MAKEOVER SERIES. A DIY MAKEOVER WEB SERIES IN PAID PARTNERSHIP WITH LOWE'S HOME IMPROVEMENT. YOU CAN WATCH SEASON 1 , 2 & 3 ON YOUR STREAMING DEVICES OR BY SUBSCRIBING TO LOWE'S YOUTUBE CHANNEL.
---
Meet the Tapps! This young couple and their active little boy Dillinger live in the suburbs of NYC, and both Ryan + Jacqui lived and worked for a few years in the city, but they moved to the suburbs to give their family more space to grow and live. They have a great home, and have renovated a few rooms in the house, but with a 2-year-old, it's hard to finish everything else they'd set out to do.
When guests come to their house, they mainly enter through the basement, which was bright blue, a little lost, and in need of some TLC. Good thing I had some great ideas in mind for this space to be one that both Ryan + Jacqui and Dillinger could all enjoy!
(Source)
Without making the space feel full-on "playroom," I did want certain elements and spaces in the room where Dillinger could have full reign, but by keeping them modern and sophisticated and adding some guest room elements, this space was going to be a great mix for both!
Before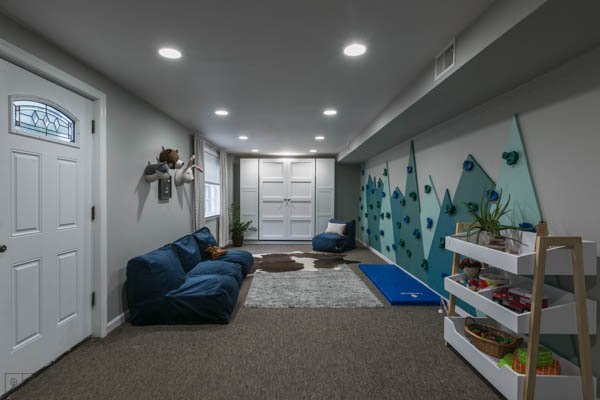 After
Before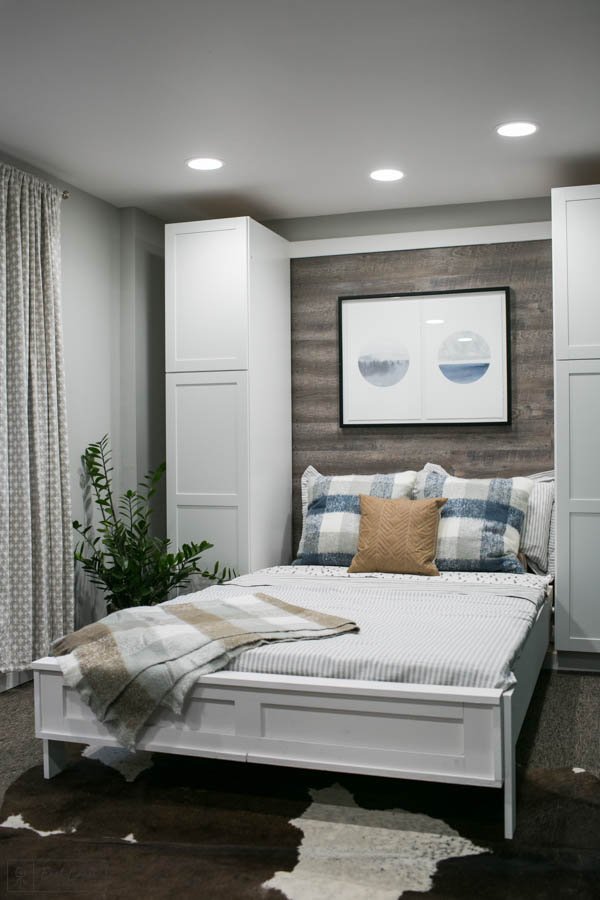 After
Before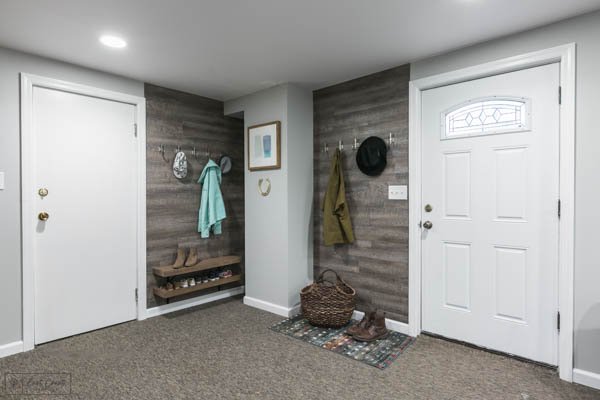 After
Before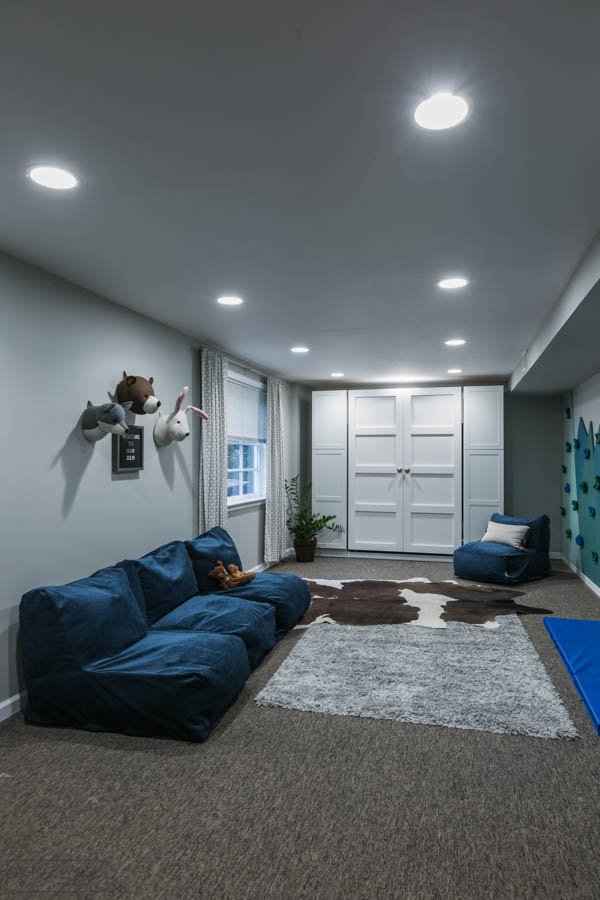 After
Holy moly, did this room change with just 5 projects! Get all the details on all of them below…
I've said it before, and I'll say it again– what a difference paint can make! Those outdated baby blue walls had to go– we lightened this whole space with HGTV HOME by Sherwin-Williams Stone Isle, and it was the perfect neutral shade to bring the whole space together.
Because we went with such a neutral wall color, we could add pops of color and various finishes throughout the room while still feeling cohesive in the space.
This project was definitely one of the craziest ones we've done on The Weekender– a DIY Murphy Bed! I'm super pleased with how it turned out– it's pretty much the star of this new space!
For the sides, we picked up two of these Diamond Arcadia White Shaker Door Pantry Closets and anchored the moving part of the bed to each unit. First we screwed 2 ledger boards into the wall, one at the top and one at the bottom for extra security and sturdiness.
For the frame of the bed, we basically built an open-face plywood box, and trimmed it out with some 1-bys for a finished look. Attaching 2, 1×3 board pieces (cut down) to the end of the bed with one screw allowed us to put the legs down for support when the bed was down, and they tuck right in when you lift the murphy bed back onto the wall.
The secret to getting the bed up and down smoothly and safely is galvanized pipe fittings! We took 2 small pieces of galvanized pipe and made a hole at the bottom of each pantry cabinet where that pipe could go through. Adding a cap to the end of each pipe secured it inside the cabinet so that the bed could be easily put away and taken down.
This bed looks just as good put away as is does out on the ground all prettied up!
We had some leftover vinyl flooring from the mudroom project, so we thought we'd use the leftover behind the bed as a cool accent wall– it really ties the different parts of the room together!
Ryan + Jacqui had this weird under-stair space in the basement, and they were stumped on how to utilize it. It's these unique features of a home that can be amazing little spaces if you just put some creative thinking into it!
I chose to use another stock cabinet, a Diamond Arcadia White Shaker Base Cabinet, as the base of this custom desk I wanted to build. We picked up a project panel from Lowe's for the desk top, and these are great for any number of projects– they're smooth, finished pieces of wood that can easily be painted or stained, and they're durable!
Before we could put anything into place, we had to cut out a little section of the baseboard trim to get that cabinet sitting snug and level with the floor and wall, then we attached 2 ledger boards– one against the main wall, and another at the same angle of the stair wall so the desk top had a stable surface to rest on.
I didn't want to full-on stain the project panel, so I went with a whitewash effect– 2 parts water to 1 part paint, mix it up, and wipe it on, kinda like staining wood, but it's a little more opaque than stain.
We added some of these Style Selections Wall Mounting Shelves to the wall above the desk for some added storage.
Since most of Ryan + Jacqui's guests enter the house through the basement, I wanted to give them a place where they could kick off their shoes, hang their jackets, and have an overall, catch-all spot. First step? Taking the flooring to the walls! Call me crazy, but this Stainmaster Style Selections Peel-and-Stick Vinyl Planking is an awesome way to add some texture to your walls!
Because this flooring is mean for, well, the floors, we added some of these Hillman Black Decorative Tacks into each plank to secure them to the wall, and it's a stylish little touch, too! And since these are thin-ish vinyl planks, no saws necessary! We just cut them using a pair of heavy-duty snips you can pick up while you're at Lowe's.
We added some of these Brainerd Satin Nickel Hooks right on top of the planking for coats, scarves and hats– a simple way to stay organized!
How great does that look? Definitely separates that part of the room from the rest, and unifies it with the planks on the other side of the room behind the murphy bed too!
Also, how adorable are these little baby shoes?! Had to display them using some Whalen Wood Decorative Shelves– easy to install, and they come with all the hardware you need!
Ryan + Jacqui told me Dillinger was a pretty active kid, and were they right! He loves to run, jump, and climb, so naturally, I wanted to give him his very own climbing wall– coolest kid on the block now!
Since we were going to mount these PlayStar Climbing Rocks onto the wall, we needed to have a very secure mount, so we cut the mountains out of plywood sheets and attached the rocks to those– they act as our studs in this case since we weren't drilling into the wall. Each plywood piece is securely fastened to the wall, and these rocks aren't going anywhere!
I really wanted this climbing wall to be a fun pop of color, and it definitely is! Here are the paint colors I used:
HGTV Home by Sherwin Williams Slate Tile
HGTV Home by Sherwin Williams Turquoise Cay
HGTV Home by Sherwin Williams Mattasaurus Rex
HGTV Home by Sherwin Williams Aloe
We used a mix of blue and green rocks for variety, and spaced them approximately 2-3 feet apart, perfect length for little Dillinger to reach! We added some cushion below with a folding tumbling mat, just in case he'd fall– better safe than sorry!
And how cute and functional is this Versanora Cube Shelf?! Perfect for storing some of Dillinger's favorite, most-used toys, and even a plant or two!
Check out some of our favorite products from this makeover…
[print_responsive_thumbnail_slider id="39″]
I had a blast working on this makeover and turning this space into one both Ryan + Jacqui and Dillinger can all enjoy! Hope you loved it as much as I did, too!
-Mon
Don't miss a single Weekender Episode of Season 3! You can watch all Season 1, 2 & 3 Episodes right HERE!
Photography: Max Grudzinski Photography
SaveSave
SaveSave