HEY GUYS! THIS POST IS PART OF THE WEEKENDER MAKEOVER SERIES. A DIY MAKEOVER WEB SERIES IN PAID PARTNERSHIP WITH LOWE'S HOME IMPROVEMENT. YOU CAN WATCH SEASON 1 , 2 & 3 ON YOUR STREAMING DEVICES OR BY SUBSCRIBING TO LOWE'S YOUTUBE CHANNEL.
---
Happy New Year Friends! I'm so ready to jump into 2018 and am psyched that The Weekender is back! We took a little break over the holidays, so you could watch Hallmark Christmas movies to your heart's content. Ha! We're kicking of the second half of the season with a farm house kitchen makeover… and not just "farmhouse style" that everyone loves… A Legit Farm! My friend Mary and her family run Five Mary's Farms in Northern California and I thought, heck, it's time that The Weekender Goes To The Farm! Check it out below!
What'd you think? Kinda awesome right? I love this family so much and had a blast having a fully girl-powered makeover… well, Matty helped too, but he's just like one of the girls to me 🙂
Here's all the details on the makeover!
Mary and Brian loved the layout of their kitchen- it functioned well for their family, but they wanted to give it some style. The cool thing about living on a farm with lots of out buildings is that they have no shortage of storage, so we didn't need to keep everything that was in the kitchen there. We moved a lot of the "not for daily use" stuff to their bunkhouse. Raise your hand if you wish you had a bunkhouse too!
We wanted to stick with the lived-in farmhouse vibe they had going on, but just give it a bit more personality and style – honestly, we wanted it to better reflect the 5 Mary's brand that they've grown!
Before
After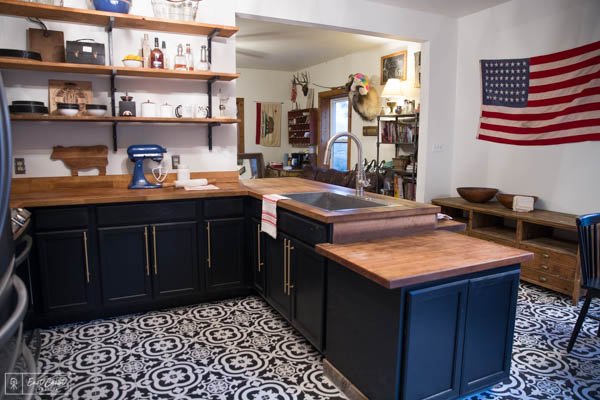 Before
After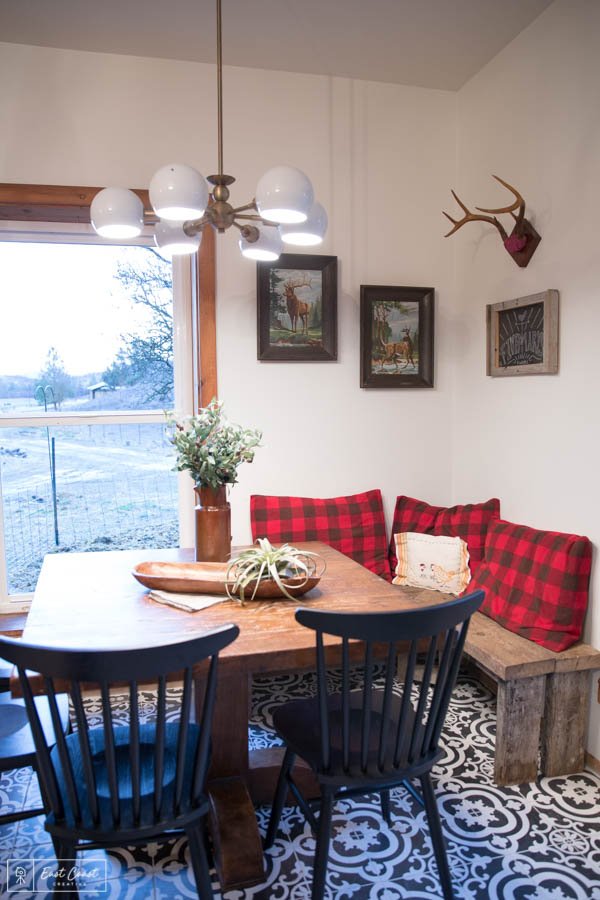 Before
After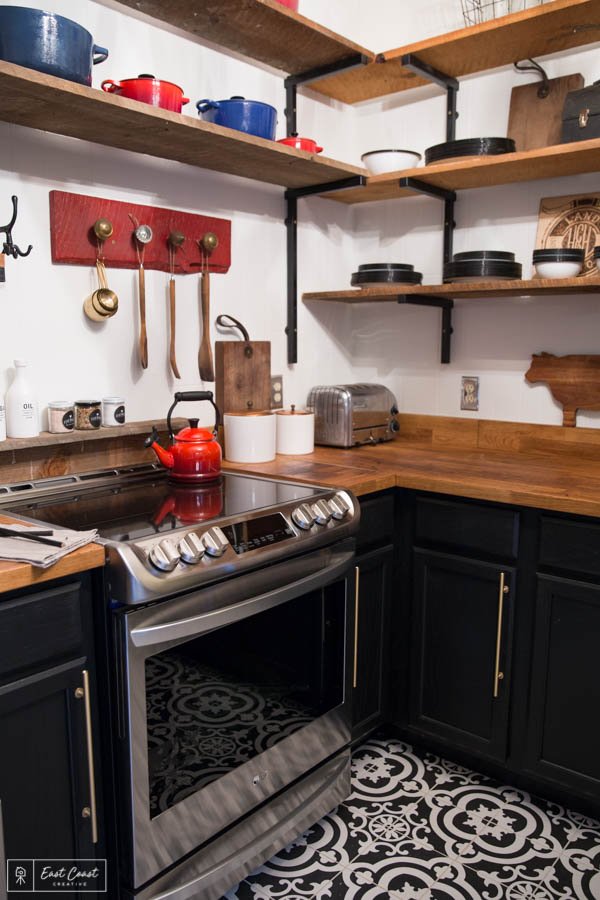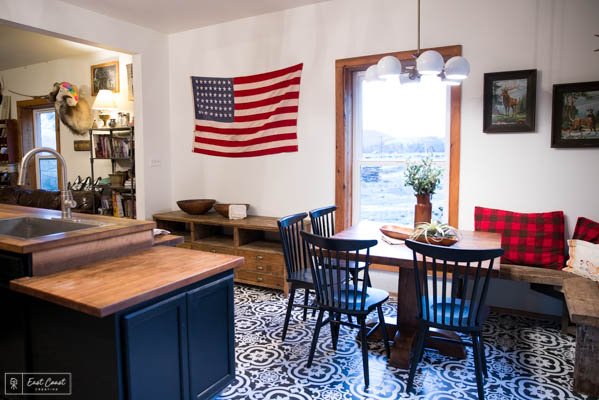 The flooring in this space is the major show stopper, there's no doubt about that, but 5 projects pulled this whole makeover together. Here's the breakdown!
Mary wanted to remove all the upper cabinets and I agreed 100% – they were making the small space feel even smaller. I can honestly say that in 7 years of doing demo with homeowners, that these 5 Mary's girls were the best I've ever worked with. I would hire them on my Weekender crew in a heartbeat! It was amazing!
We wanted to keep a few things in the space. The butcher block counters that had loads of character already, and the refrigerator. The little shelf along the back of the peninsula was a great idea, but it was too small for plates, so I wanted to remove it and had a plan for improvement!
The cabinets were in really rough shape, so we removed all the old ones, not just the uppers and replaced them with solid oak unfinished cabinets from Lowe's. We kept the layout exactly the same, so it made installation a breeze.
The cabinets were painted black (HGTV Home by Sherwin Williams Tricorn Black) and we added long brass pulls on just the cabinet doors. We left the drawer faces bare because a little brass works in a farmhouse kitchen, but adding them everywhere might have been a bit too much! It's also a good trick if you're on a budget- not everything needs hardware. Use it where you'll get the most bang for your buck!
I've had my eye on this tile for a long time, but was waiting for the perfect project to use it in. I knew it had to be just the right space and Mary's kitchen was it! The tile is a black and white ceramic tile that looks like cement tile that is all the rage right now.
Here's the direct link for it : FLOORING
I had seen it used in bathrooms (works fabulously there as well) but I totally saw it as the perfect kitchen floor. Ha, I just grabbed this pic below from the Lowe's website and noticed they did black cabs and brass pulls too! Great minds think alike!
I love the blend of rustic and contemporary in the space, but I knew that the flooring would be super bold and that I'd need to make sure almost everything else in the space went farmhouse rustic or industrial to make the styles blend.
I also pared down some of the wall decor just a bit, because I didn't want the space to feel too busy. The floor became the star.
Mary and Brian had the right idea for a breakfast bar – it's perfect for 4 little girls, but it needed to be more functional. We cut down a piece of butcher block and stained it to match their existing ones. We used black pipe and fittings as support brackets.
4 little stools for 4 awesome little girls! The girls were the most excited about the stools- it was their favorite part of the makeover. Ha!

Subway tile would have worked in this space, but we wanted to try something different, something that had a bit more authentic farmhouse feel to it. We used 4×8 wood paneling from Lowe's and painted it white. It's really hard to see in photos or on camera, but the wood grain added lots of texture to the kitchen. It also was just about the easiest thing in the world to install. Like 30 minutes vs 3 hours. Win-Win!
These brackets were intended for garage storage, but heck, no one's gonna tell me where I can use them! I think they were the perfect, clean lined, low profile option and look awesome with the old, reclaimed wood we got from the bunkhouse.
Check out some of our favorite products from this makeover using the slider below.
[print_responsive_thumbnail_slider id="38″]
Working with a friend and her awesome kids was so.much.fun! I even got to drive around the farm on their ATVs, help with chores a bit, and eat some delicious Five Mary's meals! I would say that this was a Weekender to remember, that's for sure!
-Mon
Don't miss a single Weekender Episode of Season 3! You can watch all Season 1, 2 & 3 Episodes right HERE!
*The Weekender Series is a paid collaboration with Lowe's Home Improvement. I'm thankful for the brands that believe in the mission of East Coast Creative and support my work!*