HEY GUYS! THIS POST IS PART OF THE WEEKENDER MAKEOVER SERIES. A DIY MAKEOVER WEB SERIES IN PAID PARTNERSHIP WITH LOWE'S HOME IMPROVEMENT. YOU CAN WATCH SEASON 1 , 2 & 3 ON YOUR STREAMING DEVICES OR BY SUBSCRIBING TO LOWE'S YOUTUBE CHANNEL.
---
Meet Christina and Jason! An adorable couple who met in law school and now own their first home together in Philadelphia. They bought the place with a plan to fix it up, room by room – and they've done a good job with it – but there's one space they haven't been able to tackle yet…
That would be their attic/spare/bonus room…which when I arrived, was basically a storage room – chockfull of camping chairs, boxes of books and old suitcases… Very much a wasted opportunity because it's such a great space with so much potential!
The plan for this weekend? Completely transform this space into a multi-purpose room – the homeowners occasionally work from home so we needed to add some office space. And Christina and Jason own a TON of books, so we definitely needed some book shelves and a cozy nook to curl up with one of those books. They also wanted to utilize it as a bonus guest room.
Before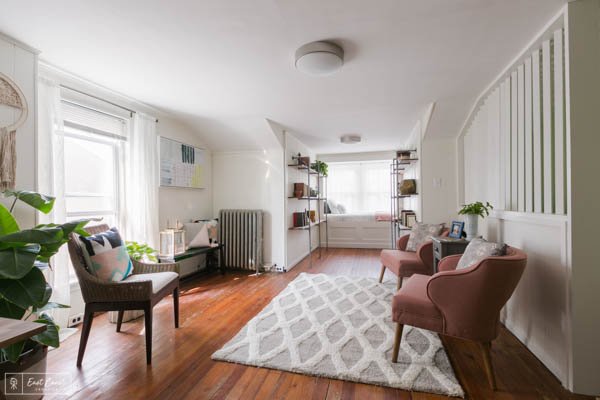 After
Before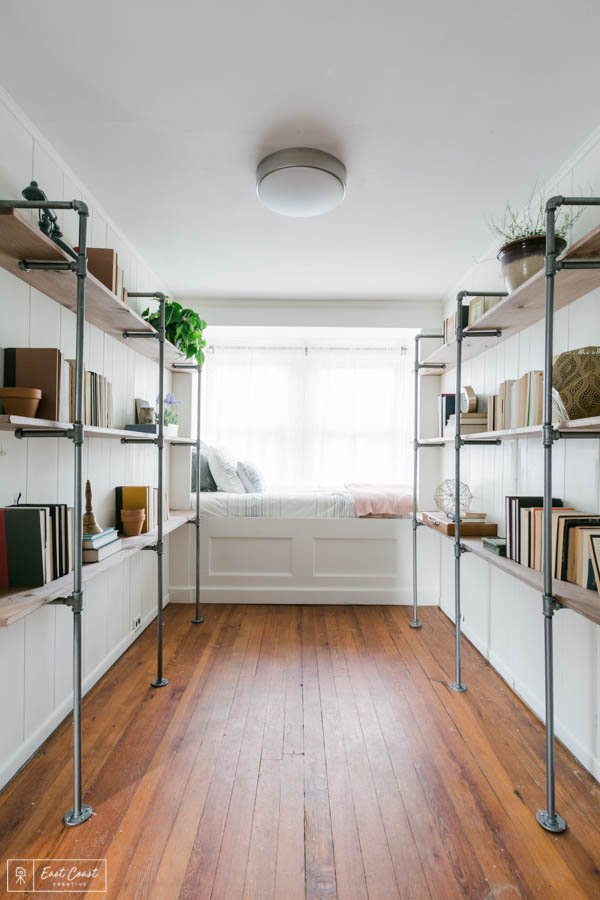 After
Before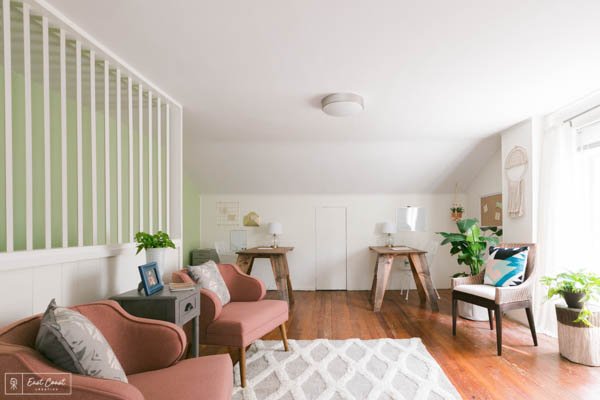 After
Before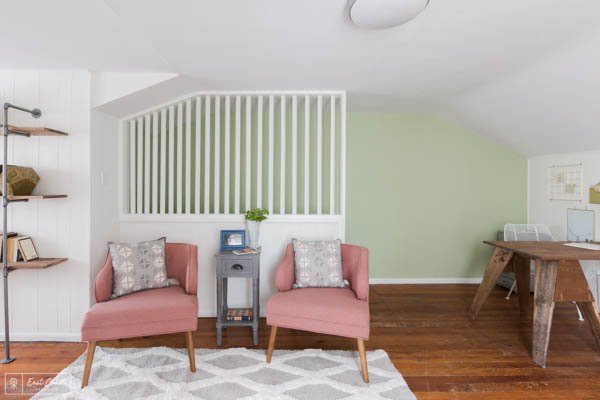 After
Who doesn't love a reading nook? These bookshelves surrounding this new daybed is basically Christina's dream come true. We started with a basic frame built around the existing wall just under the window sill so you could still see out the windows. We then added plywood on the top and front face and trimmed out the rest of the bed to give it a more sophisticated look. Voila, a new reading/napping/guest bed spot right by the window!

Not gonna lie– the paneling in this room was scary when I first walked into the space– peeling off the wall, a dark 70's brown… not ideal. But that's nothing some white paint can't fix! We used HGTV Home by Sherwin-Williams Dover White for all the paneling in this space, and HGTV Home by Sherwin-Williams Fairyland for the wall near the staircase.
Because this space was so dark and drab before, and the floor are already dark, I really wanted to lighten the space, and allow for as much light to come through as possible, and white always helps do just that. Also, you can easily swap your decor without having to match it to the wall color– win, win!
This is one of my favorite little touches in this space! The half wall with spindles was soooo circa 1970, BUT, I'm here to bring it back in a new and modern way. Using some 1-bys, we angled them slightly going further along the length of the half wall to create a sort of screen effect. This project really helped to separate the staircase from the rest of the room, and also creates some nice visual interest behind the cute little sitting area!
That HGTV Home by Sherwin-Williams Fairyland paint coming in for the win!
Whether they like it or not, sometimes Christina and Jason have work to do even when they get home, so having a great workspace is crucial for both of them. Working at the kitchen table is fine, but not ideal, so I wanted to give them a his and hers workspace in their 3rd floor nook.
Thanks to these Burro Brand Saw horses, mounting a piece of plywood on top that spanned to the wall made for a perfect, unique and affordable desk! Top both pieces off with some wood stain, you've got a totally custom piece of furniture that only cost you a fraction of a store-bought desk!
Even though Christina and Jason have plenty to do when they're at work, they also want somewhere where they can separate work from relaxation at home, so no more working on the living room couches– this new his & hers work space in the attic is that perfect combination!
Oh the bookshelves… This space ended up being the perfect layout for the design at mind. The bookshelves on either side of the long part of the room framing out the daybed– couldn't have worked out better!
I can't emphasize this enough, but these bookshelves were super easy to make! Grab some galvanized pipe, fittings, some screws, and pine boards, and you're good to go! First you'll want to determine how high and wide you want your shelves.
There are lots of different lengths of this galvanized pipe so it's easy to customize to the size you want.
For the 90-degree angles, you'll need the 90-degree elbow fittings, and to connect 3 pieces of pipe, you'll want to use a tee-fitting. To secure to the floor and at the top to the wall, simply screw in a floor flange fitting with some heavy duty screws.
Bookshelves are the best, and they're not just for books! Try setting up some different little vignettes of styled items… a few books, some decor pieces, a trinket from your most recent trip– anything goes, and groupings of three is key!
Check out some of our favorite products from this makeover…
[print_responsive_thumbnail_slider id="34″]
This might have been one of the most dramatic before and afters I've ever done, and I love this space just about as much as Christina and Jason do! If you want to find out more about this episode, or any other episodes this season, make sure to head to lowes.com/theweekender, and keep checking back here on the blog for more spaces!
-Mon
Don't miss a single Weekender Episode of Season 3! You can watch all Season 1, 2 & 3 Episodes right HERE!
Photography: Max Grudzinski Photography
*The Weekender Series is a paid collaboration with Lowe's Home Improvement. I'm thankful for the brands that believe in the mission of East Coast Creative and support my work!*