HEY GUYS! THIS POST IS PART OF THE WEEKENDER MAKEOVER SERIES. A DIY MAKEOVER WEB SERIES IN PAID PARTNERSHIP WITH LOWE'S HOME IMPROVEMENT. YOU CAN WATCH SEASON 1 , 2 & 3 ON YOUR STREAMING DEVICES OR BY SUBSCRIBING TO LOWE'S YOUTUBE CHANNEL.
---
This weekend I took a little trip out to Utah and spent some time getting to know the girl behind the StacyPlays YouTube channel. Stacy is a pretty well-known face in the gaming world, and more specifically Minecraft world. She records herself playing and building awesome little worlds in the game Minecraft, but she also vlogs about adventures she goes on in real life– most of the vlog segments featuring shout-outs to her dogs and cat.
Stacy just moved into a new working space, and she had a spare room that she had no idea what to do with, and wanted to make that the most epic gaming room of all time– that's where I stepped in in typical Weekender fashion.
This makeover is a little different from my usual… the goal this time around was to transform this lifeless room into a fun, super unique space for Stacy to film her videos from and make it a recognizable backdrop for her fans. I stuck with some cozy wood tones, deep colors, and fun outdoorsy elements, just like the game of Minecraft!
Before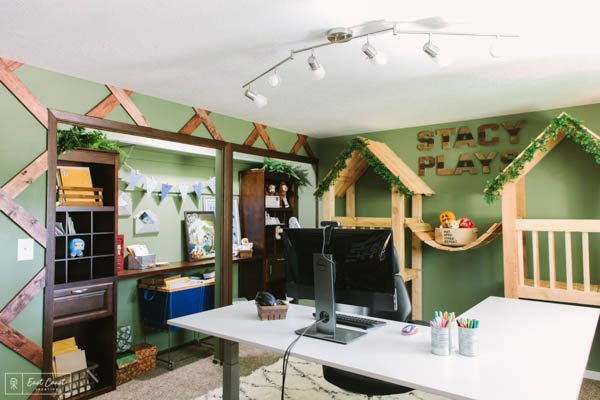 After
Before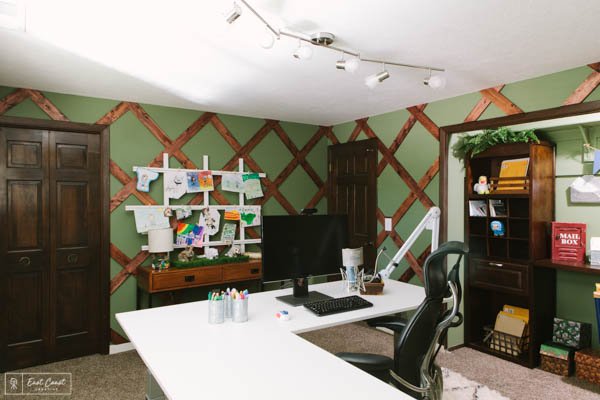 After
Before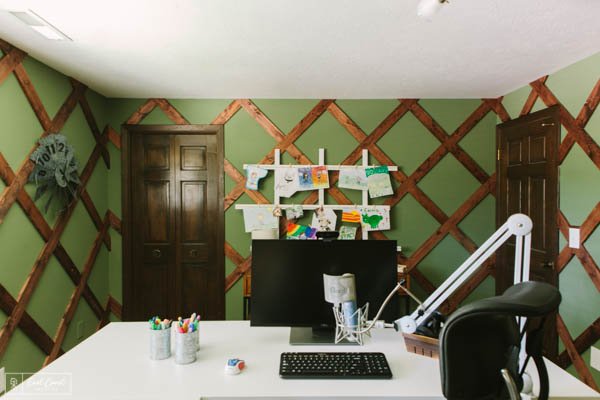 After
Before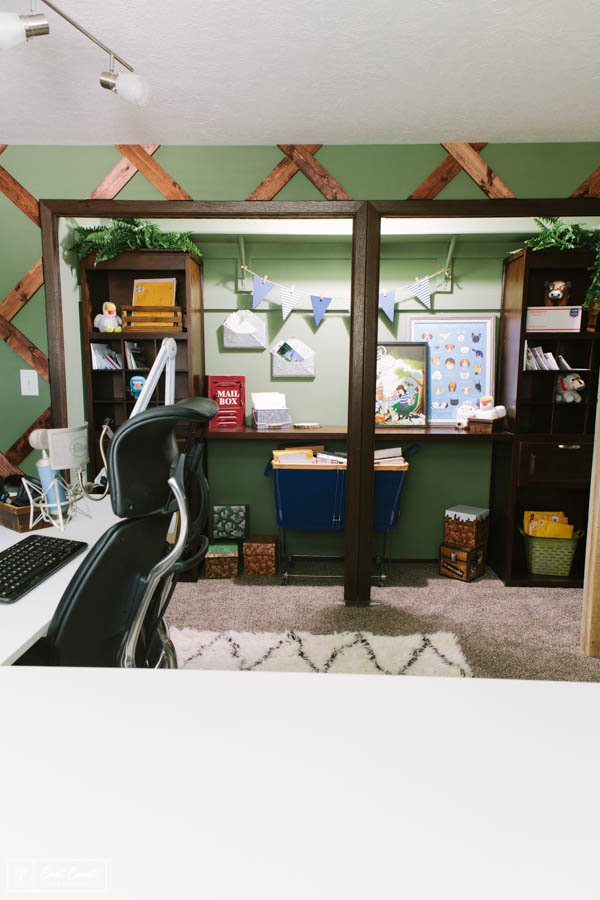 After
The challenge in this space was complete transformation with just five simple projects, but I think I nailed it!
Much of Minecraft takes place outdoors– construction buildings and structures for your players and Minecraft pets, and since Stacy lives in the mountains of Utah, (and loves it there!) I wanted to bring a bit of that outdoors into this space.
Using some 1×8 pine boards, we created a gridded, lattice look for three of the four walls, which we then stained with Minwax's Red Mahogany for a natural and woodsy look, and it also complimented the dark cherry trim and doors in the space.
A quick tip when you're staining– it's ok to be a little messy and heavy-handed when you first apply the stain, because you can take a rag and wipe the excess off the wood for a smooth, even finish.
As a well-known YouTuber and gamer, Stacy get's A LOT of mail, and by a lot I mean, she had a shower and bathroom full of it– letters, drawings… so much fan mail! I definitely wanted to give her a space that was just dedicated to the organization and storage of all that mail.
Lowe's carries these awesome Allen + Roth Wood Closet Kits that are the perfect closet organization solution for just about any closet. Since Stacy's closet was pretty big, we were able to use two of these closet kits, and we even made a makeshift tabletop with a piece of plywood, stained to match the java finish of the closet kits.
Getting some of the postcards and envelopes out of the giant boxes and into smaller, cuter little containers is a great way to display and organize all the mail that Stacy receives! I got these little galvanized tins and containers from the local craft store.
Let's talk a little bit more about these closet kits shall we? The best part is that they come with EVERYTHING you need to put them together– screws, hardware, shelves, dividers– everything but the screwdriver. My favorite part of these kits is the 6-cubby dividers which were perfect for sorting and organizing Stacy's mail. They're also great for displaying collections of things, like her many stuffed Minecraft animals– so cute!
Stacy wanted an epic backdrop to film in front of, and I dare say we did just that. Two tree houses and a cat bridge for her lil' furry friend? Done and done.
Each treehouse is made up of four 4x4x8″ cedar posts, some 1×8″ pine boards cut down for the floor and railing and roof frame, and some cedar fence pickets for the roof "shingles."
Anddd the cat bridge– just for her kitty Milquetoast to hang out behind her as she films!
From drab white to a rich, forest green? Quite a change! I wanted a cool color for the walls so that all the rich, warm, reddish wood tones would really pop in this space and create great contrast overall. I went with HGTV Home by Sherwin-Williams Lichen & Liverwort for the walls, and extended that color into the interior of the closet as well.
Oh yeah, and check out this super cool techie Galaxy Brushed Nickel Track Light fixture– perfect for when Stacy's filming and needs to adjust certain lights. The arms on either end of this fixture move, and each individual light moves as well so you can get just the right lighting you need for any situation!
Like I mentioned before, Stacy gets a ton of mail, much of which is fan mail– letters, drawings, photos, postcards, you name it! I wanted to give her a special space aside from the mail closet where she can display some of her favorite pieces of art and fan mail, and keep them rotating out as she gets more.
Using a few 1-by's we made a little grid, attached at the cross points with a nail gun, added a coat of paint, and some twine stretched across each board so we could hang the artwork from it. Any chance I get to use mini clothes pins, I jump at that opportunity, I mean, they're adorable, and super useful in this case.
Whether you too have tons of fan mail, or just a lot of drawings from your kids, this is a simple and useful project for any space in your home, and it fits any design style!
Check out some of our favorite products from this makeover…
[print_responsive_thumbnail_slider id="35″]
While I still may not know exactly what Minecraft is or the full extent to what Stacy does, I do have a newfound appreciation for her mad skill and dedication to what she does! I hope this space was a fun and exciting one for you– it was for me! If you want to watch some of Stacy's videos, head on over to her YouTube page where she'll even share some behind the scenes videos of this makeover from her point of view!
-Mon
Don't miss a single Weekender Episode of Season 3! You can watch all Season 1, 2 & 3 Episodes right HERE!
Photography: Becky Kimball
*The Weekender Series is a paid collaboration with Lowe's Home Improvement. I'm thankful for the brands that believe in the mission of East Coast Creative and support my work!*