HEY GUYS! THIS POST IS PART OF THE WEEKENDER MAKEOVER SERIES. A DIY MAKEOVER WEB SERIES IN PAID PARTNERSHIP WITH LOWE'S HOME IMPROVEMENT. YOU CAN WATCH SEASON 1 , 2 & 3 ON YOUR STREAMING DEVICES OR BY SUBSCRIBING TO LOWE'S YOUTUBE CHANNEL.
---
Hey guys, Monica here, and I'm so excited to introduce Season 3 of The Weekender to you all! We've been hard at work getting more episodes for ya, but here's the first one to kick things off!
Season 3 kicks off with a little crossover action with my friends Rob + Corinne of the super popular YouTube channel Threadbanger! Both Rob + Corinne spend most of their time creating, producing, filming, and editing their videos while coming up with the next best DIY projects to test out. They just bought a house in Asheville, NC that they're hoping to make into their first long-term home together, but they're a bit short on time to say the least.
The house they bought is a total fixer-upper, and they've already begun demolition on the entire house, except for the master bedroom. They want a place to sleep while they work on the house, but they've been stuck style-wise for what to do with the room. Enter The Weekender– in one (long) weekend we totally transformed their empty master bedroom into a space that totally fits both of their personalities.
The plan this long weekend was to take this empty room and make it a place where Rob + Corinne could rest and enjoy during the rest of their home renovation. First plan of attack? The closet build which was going to be the bulk of this room renovation, but would definitely add some serious personality and function to the room.
Before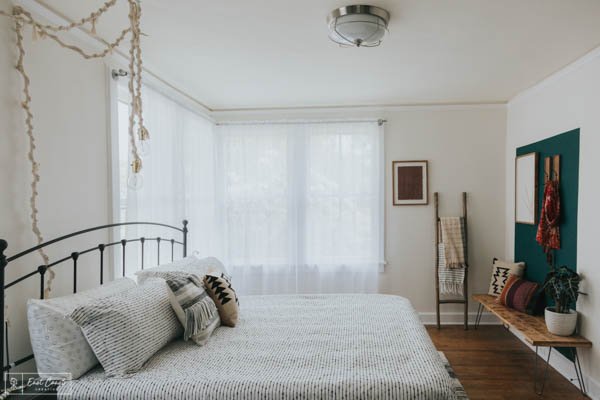 After
Before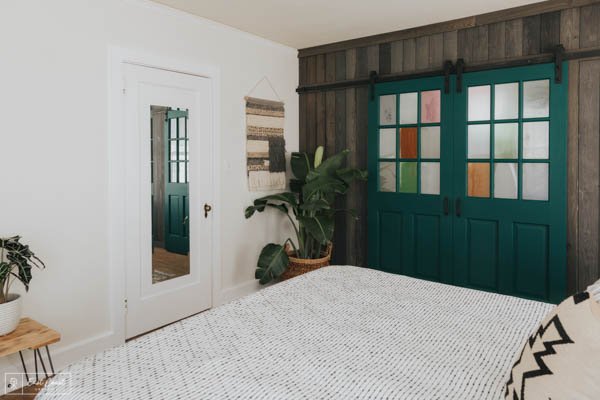 After
Before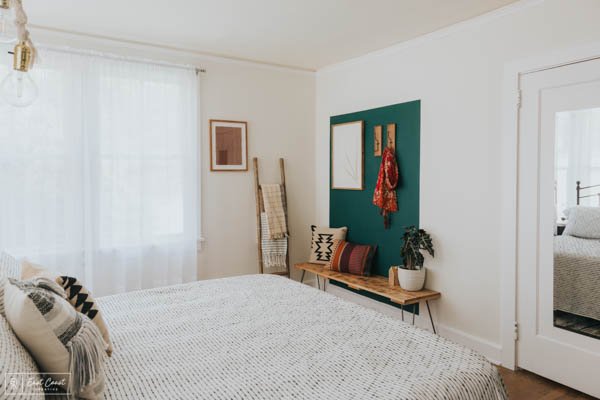 After
Before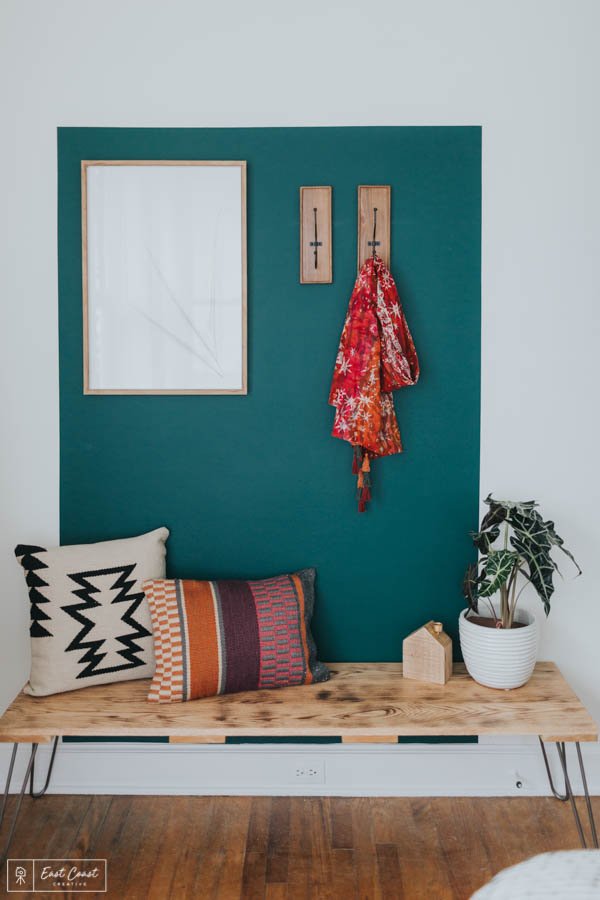 After
Five projects definitely can transform a space, and even more so in a room as empty a slate as this mater bedroom!
Ok, so when I first got to Rob + Corinne's house, it was GUTTED, and I mean gutted… like nothing on the walls (half of the walls were gone!) the rafters were exposed, floors were being torn up– they're seriously renovating this house! The master bedroom was the only room that wasn't completely destroyed, so we had some good bones to work with.
R + C had ripped out these bizarre his + hers closets before I got there, and that made way for the new closet we were going to build them.
Lowe's sells these awesome Rustic Barnwood Pine Wall Planks in the pre-cut lumber section that I thought would be perfect for the closet build out– simple, classic and definitely a statement piece! This wood was planked so that it can easily be locked together– kinda like shiplap! Once installed and locked into place, a few trim pieces, and we had a nice, new closet big enough for all of R + C's clothes!
We also added two sliding doors to cover the opening of the new closet, and even added a fun little DIY stained glass feature to the doors! Keep reading to get the details on that project below…
Asymmetrical accent walls are really trending right now, and I wanted to give R + C a statement wall that fit their eccentric and quirky personalities, so we went with a deep, jewel-tone HGTV Bucolic Green HGSW2301 Paint and masked off the area with ScotchBlue™ Platinum Painter's Tape. This tape is great for nice and crisp paint lines, and perfect for an accent wall color block like this!
A painted accent wall is a great way to introduce a bold color into a space if you're a bit uncertain– that way if you don't like it, it's not an entire wall to re-paint, just a small patch of wall, but I always say go for it!
Ok, I'm a total sucker for some great stained glass, and I think that mixing the old with the modern is totally cool, and that's what I tried to do in this master bedroom makeover.
We got these Masonite 9-Lite Unfinished Entry Doors at Lowe's and added a National Hardware Top Mount Sliding Barn Door Kit to each door to turn them into sliding doors. Inside the closet is a small window that sheds a pretty good amount of light through the space, so having some window panels in these doors really helped to brighten the space.
We used a combo of theseGila Frosted Privacy Window Film and some colored film gels we picked up at a local camera supply store to give the look of stained glass window panes. First, measure your window panes, and cut the film gels and privacy clings down to size. Next you'll want to spray a bit of the window applicator spray onto each window pane, then apply the privacy cling piece first, texture side onto the window pane. Lowe's sells this awesome little Gila Window Film Application Kit that includes everything you'll need to get these privacy screens on the window the proper way! Spray that pane again, and then place the film gel on top, using the squeegee to smooth out any air bubbles you might have. Let that dry for a bit, and you're on your way to a new stained glass feature!
A perfectly styled modern bench is just the piece that this space needed. Corinne and I built this bench together out of some 1×6 Oak boards which we torched to bring out the grain of the wood.
To keep the boards together, we attached three vertical planks across the three boards to secure and give us a place to attach the modern hairpin legs I picked out for this project!
Little custom touches like burning the wood, and selecting just the right hardware can really make or break a piece and make it super unique to a space!
Macrame ain't just a thing your grandma used to do anymore– it's becoming cool again, and it's popping up everywhere! I wanted to keep this master bedroom a cool and trendy, but calming space by incorporating lots of neutrals and subtle textures.
Macrame is a great way to add some texture and visual interest into any space, and it's easier than it looks! Using these Portfolio Lamp Socket Kits, I started knotting at the base of the light cord by making a simple square knot, and continuing the same knotting pattern until the end of the cord. When you reach the end, tie it off and hang 'em up!
Check out some of our favorite products from this makeover…
[print_responsive_thumbnail_slider id="38″]
Well, I hope you all loved that makeover as much as I did! Definitely make sure you check out Rob + Corinne's Threadbanger channel, and stay tuned here for more makeovers coming soon!
-Mon
Don't miss a single Weekender Episode of Season 3! You can watch all Season 1, 2 & 3 Episodes right HERE!
Photography: Olive & West Photography
*The Weekender Series is a paid collaboration with Lowe's Home Improvement. I'm thankful for the brands that believe in the mission of East Coast Creative and support my work!*