Hey Guys! This post is part of The Weekender Makeover Series. A DIY Makeover web series in partnership with Lowe's Home Improvement. You can watch Season 1 + 2 on your streaming devices or by subscribing to Lowe's YouTube channel.
---
Our final makeover this season we headed back to Miami and this time for a sunroom makeover. When Erin and Robert bought their first home together, they had a lot of renovation to do, and they found out they were pregnant with twins in the midst of all their renovations! For months they were full-time new parents and full-time renovators.
Erin and Robert live right outside of Miami and have recently finished renovating their entire home but are stuck on the back porch which overlooks their backyard. They have two young girls who love to play outside, and both Erin and Robert love to entertain so this space would be perfect.
Since this sunroom is an extension of Erin and Robert's home, but totally exposed to the outdoors, we wanted to use durable products, but also things that look like they could belong indoors as well. Lots of natural wood tone, weather-ready product, and plants!

Before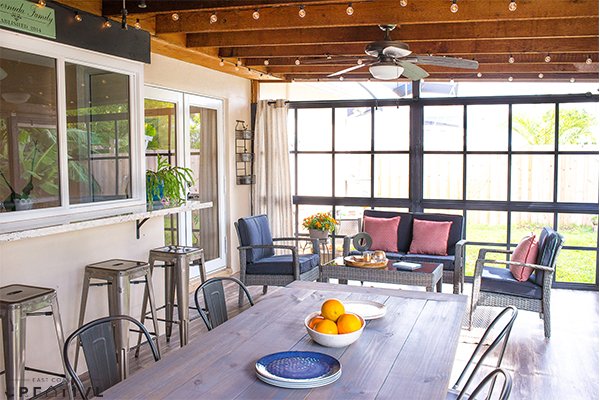 After
Before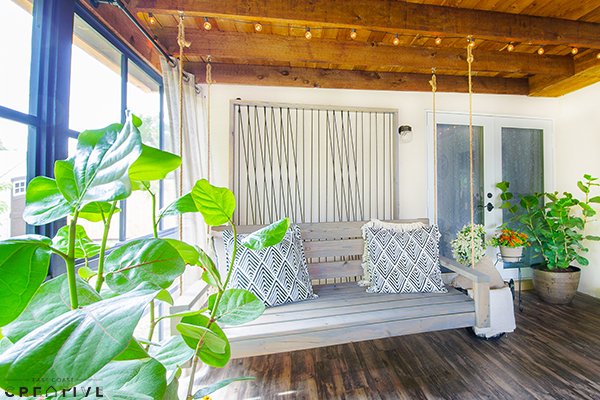 After
Before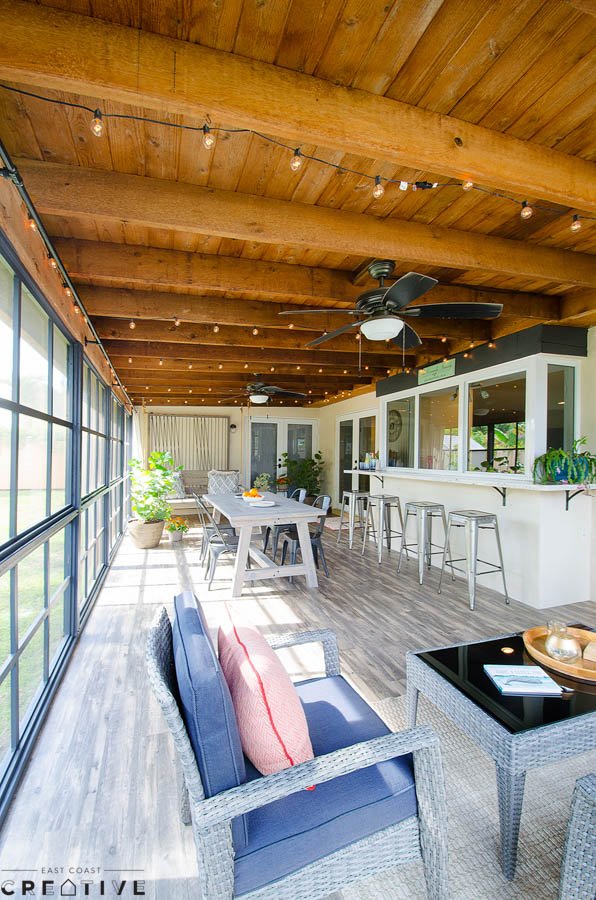 After
Before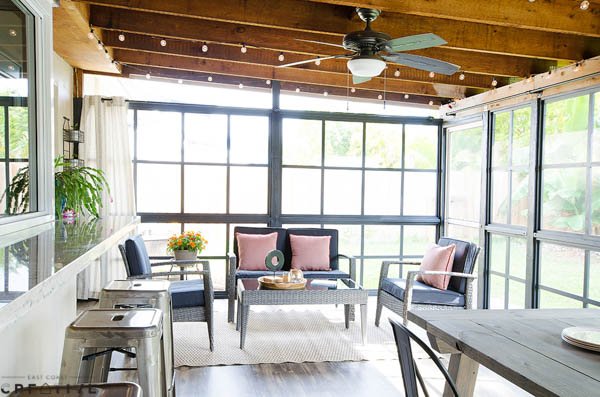 After
Whether you have an open porch or semi-closed, these faux window panes are super simple to make, and they bring some serious style to any space. With some pieces of wood trim, we created a large frame that fit between the vertical posts, then we put the 'panes' into that larger frame. Using a clamp and drill, we secured each cross section into the larger frame. Once we installed them in the wall, we drilled right into the vertical posts, then painted with Valspar's Lincoln Cottage Black Paint. These panes are durable and stylish, they don't block the view and still allow all the sun to come in!
Since there was smooth concrete flooring in the sunroom, and that's not ideal for kids running around or entertaining purposes, we decided to cover the floor with the Congoleum Airstep Wood-Look Sheet Vinyl Flooring. The greatest thing about this flooring is that it's lock and load– these vinyl floor planks lock into each other and with a simple tap into place, this flooring is ready to go! Durable and easy to install? Yes please!
Since we really wanted this sunroom to be an extension of Erin and Robert's interior, I wanted to put some curtains up. Typically the selection for outdoor curtains isn't too extensive, so that limited style choice might deter most people from even thinking about outdoor curtains… not me! I took some interior curtain panels and sprayed them with some havy-duty Scotch guard clear spray that basically waterproofs the fabric. No more skimping on good style for your outdoor space!
You've all seen this amazing farmhouse-style tables at high-end stores for hundreds, sometimes even thousands of dollars, but my goal this weekend? To make Erin & Robert one for under $100. Crazy? Maybe, but it was totally worth it, and it turned out great! I started by cutting down some 2×8″ pine boards for the table top, then capping each end with vertical pieces and securing everything with pocket holes so no screws were visible from the surface of the table. Next, stacking 2×4″ pieces of pine board on top of one another and securing with screws, we created chunky 4×4″ posts for half the cost of buying an actual cedar post. We cut the legs of the A-frame base at 10-degree angles and secured at the top with a horizontal piece of pine board with heavy duty lag screws. For a timeless, rustic look, I stained the whole table with Minwax's Classic Gray Stain.
A great way to bring the inside outside is with artwork, but I'm not talking any Picasso's… this DIY outdoor rope art is the perfect fit for any outdoor space. Using some 2×4 boards, we built a giant square frame and measured 3″ intervals where our holes will go. We used a 7/8″ paddle bit to drill each hole around the whole perimeter of the frame, then threaded our rope through there in a geometric pattern. Doing this project with a friend makes it a heck of a lot easier! Pulling tight with each pass-through, secure the rope with a tight knot at either end. We stained our wood frame with the same Minwax's Classic Gray Stain as our table for consistency, and hung this work of art up!
Check out some of our favorite products from this makeover…
[print_responsive_thumbnail_slider id="32″]
1. International Home Atlantic 4-Piece Wicker Conversation Patio Set
2. Crosley Furniture Set of 2 Galvanized Bar Stools
3. Congoleum Airstep Wood Look Sheet Vinyl Flooring
4. Walker Edison Antique Black Side Chair
This sunroom got a mega makeover this weekend, and I can't wait to see what Erin and Robert do with this new entertaining space that they've always dreamed of! That's what The Weekender is all about– making your home reno dreams a totally doable reality.
-Mon
Don't miss a single Weekender Episode of Season 2- You can watch all Season 1 + 2 Episodes right HERE!
*The Weekender Series is a paid collaboration with Lowe's Home Improvement. I'm thankful for the brands that believe in the mission of East Coast Creative and support my work!*