Hey Guys! This post is part of The Weekender Makeover Series. A DIY Makeover web series in partnership with Lowe's Home Improvement. You can watch Season 1 + 2 on your streaming devices or by subscribing to Lowe's YouTube channel.
---
This weekend I headed back to New Orleans to visit Allen and help him makeover his mudroom/laundry room. Allen, now a young business professional, was born and raised in New Orleans and was forced to evacuate when Hurricane Katrina hit, so he lived a few years in Texas. Allen loved New Orleans so much he came back for work and bought his first home and fully renovated it into a place he can now call home again.
Most people want a bedroom or living room makeover, but when Allen said he wanted a laundry room makeover, and also a space where he can entertain guests, it was such a unique request I couldn't say no! His shotgun-style home has connecting rooms, so you have to walk through every room to go from front to back door, and Allen has a killer backyard space so he wanted this space to be an extension of that area.
Because Allen's home was recently renovated, my job was bringing some style and custom pieces into this space with a little bit of paint, stain and simple builds we took this basic laundry room from builder grade to custom and cool, and definitely fit for some entertaining.
Before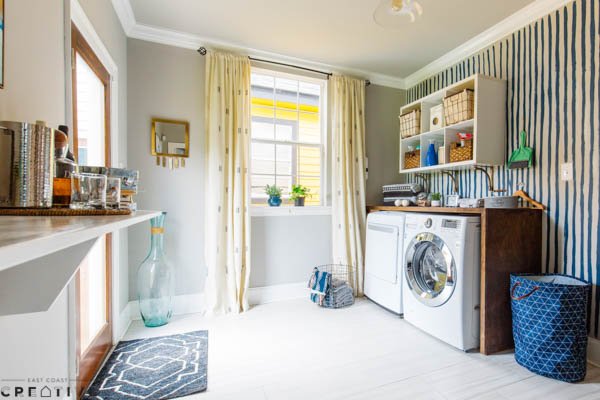 After
Before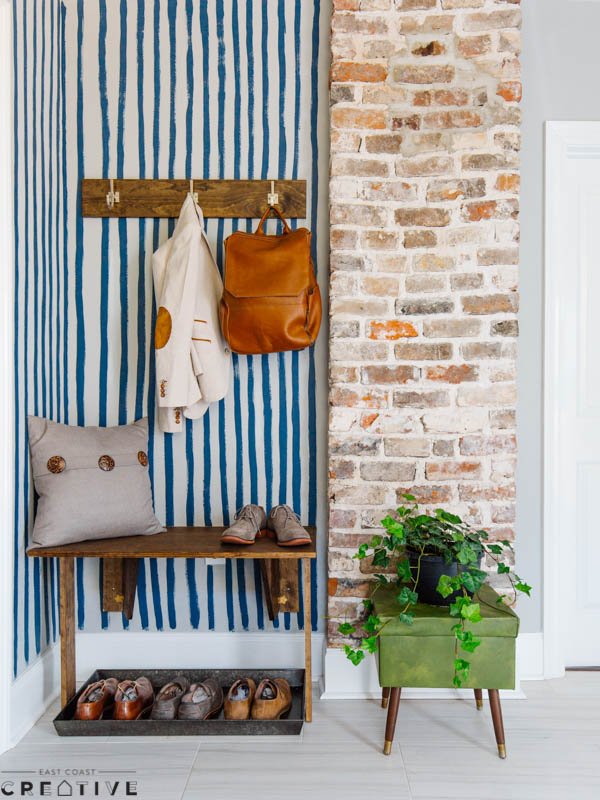 After
Before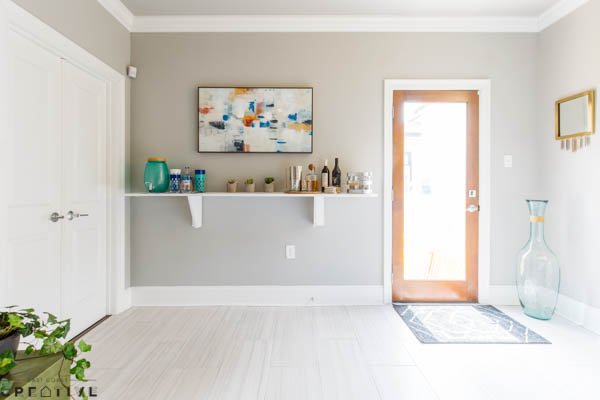 After
Before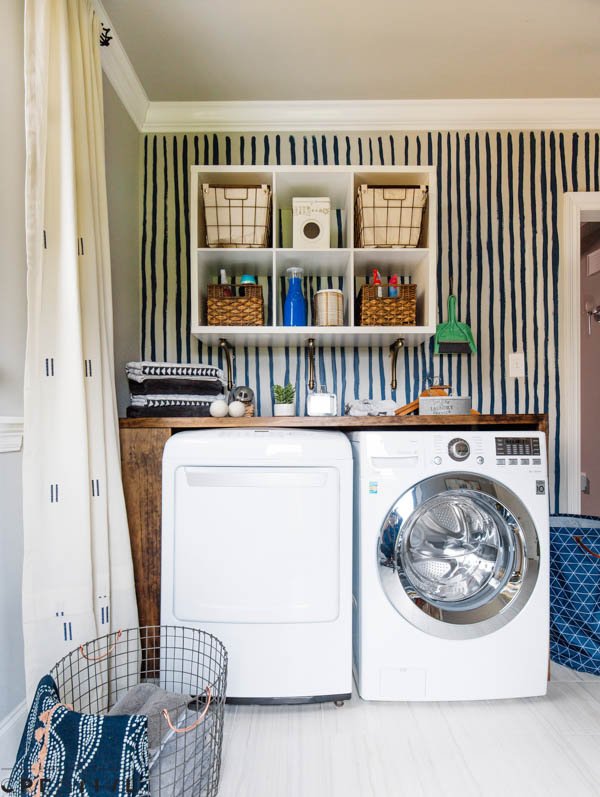 After
It's not a Weekender makeover without 5 projects, so here they are…
Guys, I don't know if you've seen the prices of high-end wallpaper these days, but it get's pretty pricy. I'm here with some great news that you can get that look for a heck of a lot less! With a can of paint and some chip brushes we were able to create this hand-done, unique striped accent wall. Using Valspar's Hampton Surf Paint, we painted vertical stripes spaced about 2 inches from each other on two of the walls of Allen's laundry room. We used inexpensive chip brushes to get a textured, 'controlled messy' look– if we're doing this by hand make it intentional!
Since this space was multi-purpose mudroom, laundry room, and entertainment space, I wanted to give Allen a little spot to hang some bags, coats and store his shoes while extending the feel of the rest of the house into this room. With a few pieces of plywood we were able to create this bench! You'll need a piece of plywood for the seat of the bench however long you want that to be. You'll also need some support pieces cut at 45-degree angles on one side, and 90-degrees on the other to sit up against the wall under your bench, and two smaller pieces of wood to sit flush on the wall and screw everything into. We also attached two piece of wood from seat to floor for extra support so you can sit and take all the time you need to decide what shoes you'll wear each morning.
This build is basically the bench build but at a larger scale. First we measured, cut and screwed in a 3/4″ piece of plywood as a ledger board so the bar has something to anchor to. Next we took a Cabinet Hinge and screwed that into the back side of the plywood top so you can flip that up and down against the wall when you're not using it. Next, screw the other half of that hinge into the front of the ledger board on the wall. For the table supports, we used the same pieces from the bench build, and attached decorative hinges on each set of wood cuts so this whole piece can be collapsable when you're not using it!
Best part about this project? It's a bar set-up and laundry folding station, and it's at the perfect height for both. Add some bar stools even!
These waterfall countertops are trending and for a very good reason– they're super cute and totally functional! I might not do much laundry at my own house, but I'm assuming it's convenient to have as much table surface as you can get in a laundry room– folding, sorting… I don't know, what else do you do in a laundry room?!
This build was super simple– two piece of plywood with 45-degree mitered edges and we joined them together for a perfect 90-degree angle to encase the washer and dryer units. To install, we first created a ledger board on the wall for the counter top piece to rest on. Using some wood glue and a nail gun, we laid the top piece against the wall on the ledger board, then added the side piece of the counter securing with some wood glue and a nail gun. We stained the countertop, then slid in the washer and dryer and voila!
And of course a laundry room makeover wouldn't be a complete makeover without a new washer and dryer! Allen's old washer and dryer were top loads, which weren't going to work with our waterfall countertop idea, so it was his lucky day! We installed the LG TwinWash Energy Star Front-Load Washer and Dryer units which were a nice, clean white to match the trim and new fold-down bar in this space.
Cube storage– we all have em somewhere in our house, probably storing a bunch of crap in our basement or living room. We used this ClosetMaid White Laminate Storage Cube and took it to the wall! It's an inexpensive alternative to cabinets and expensive shelving, and it still achieves the same purpose! We used three of these Style Selections Aged Nickel Decorative Shelf Brackets to hold up our storage cube– functional and stylish is my motto!
These cubes are prefect for smaller storage solutions as well, like wire and wicker baskets, bottles, containers, event plants! Make your laundry room cute too and not just functional!
Here are some of the goods that brought this space together…
[print_responsive_thumbnail_slider id="31″]
1. ClosetMaid White Laminate Storage Cube
The organizational star of this space, inexpensive and super easy to customize and use for any space!
2. Style Selections Aged Nickel Decorative Shelf Brackets
These little touches of sophistication were just what we needed to hold up the cubes and bring something special to this room.
3. Kaleen Solitaire Charcoal Accent Rug
Can't go wrong with a geometric pattern and black goes with anything!
4. Valspar Hampton Surf Interior Paint
This paint was the perfect solution for this custom accent wall– durable and vibrant!
Well this makeover was definitely a first– laundry room and entertaining space, but after visiting Allen and seeing his vision for his home it kinda made more sense to me! If you liked this makeover, be sure to check out the rest of Season 2!
-Mon
Don't miss a single Weekender Episode of Season 2- You can watch all Season 1 + 2 Episodes right HERE!
*The Weekender Series is a paid collaboration with Lowe's Home Improvement. I'm thankful for the brands that believe in the mission of East Coast Creative and support my work