Hey Guys! This post is part of The Weekender Makeover Series. A DIY Makeover web series in partnership with Lowe's Home Improvement. You can watch Season 1 + 2 on your streaming devices or by subscribing to Lowe's YouTube channel.
---
Surprise! We're back with this adorable family, and this week I tackled Olivia's little brother Sean's room– I couldn't leave him without a makeover… I mean, look at that face.
Sean is one of my youngest clients to date, so this makeover was going to be a bit of a challenge, but definitely nothing I'm not up for! Fernando, Sean and Olivia's dad was a pro baseball player, so he's bringing Sean up in the ways of baseball, and I wanted this room to be something he can enjoy now and as he grows up and follows in those footsteps!
The plan? All-American boy. Lots of wood tones, neutrals, pops of cool color, and of course some sports references thrown into the mix! This room needed to fit Sean currently and as he grows up.
Before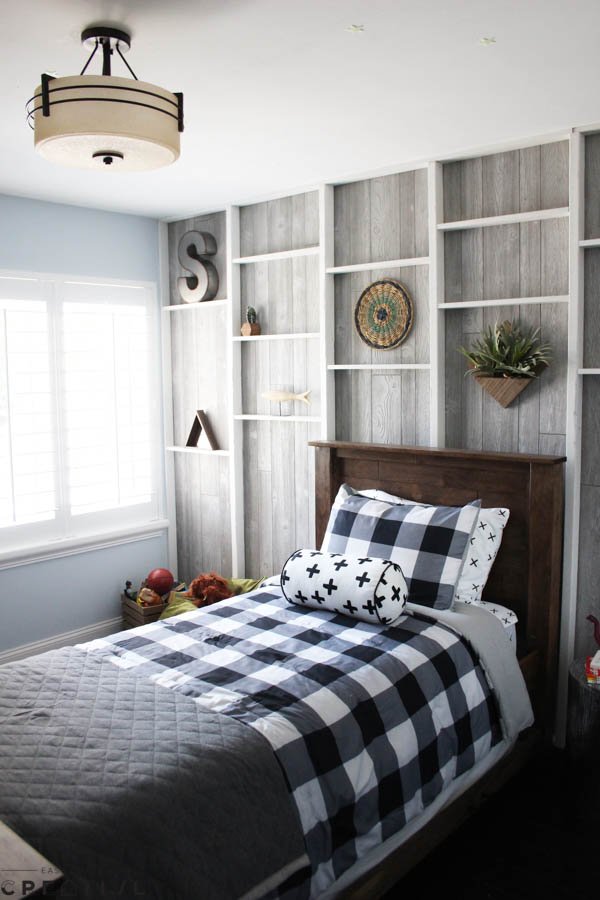 After
Before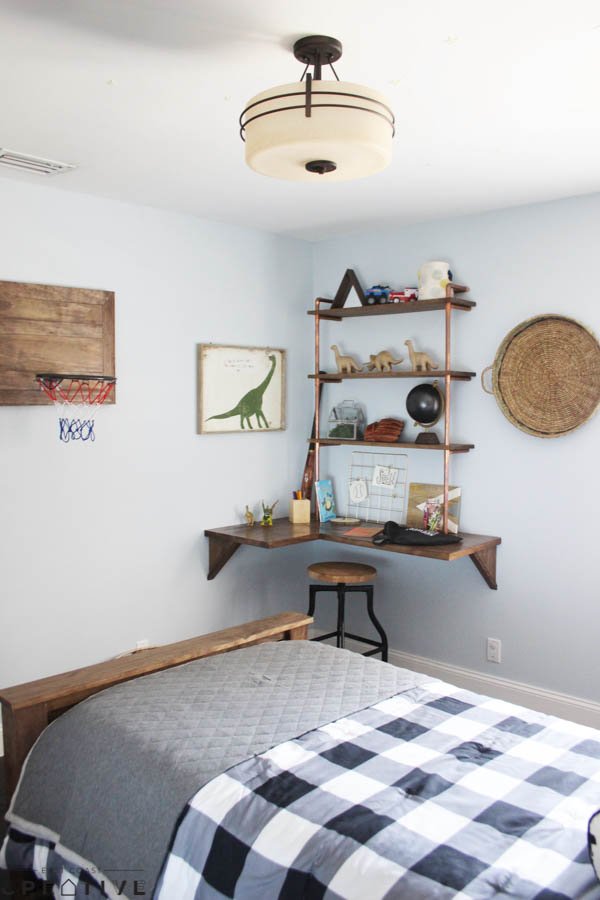 After
Before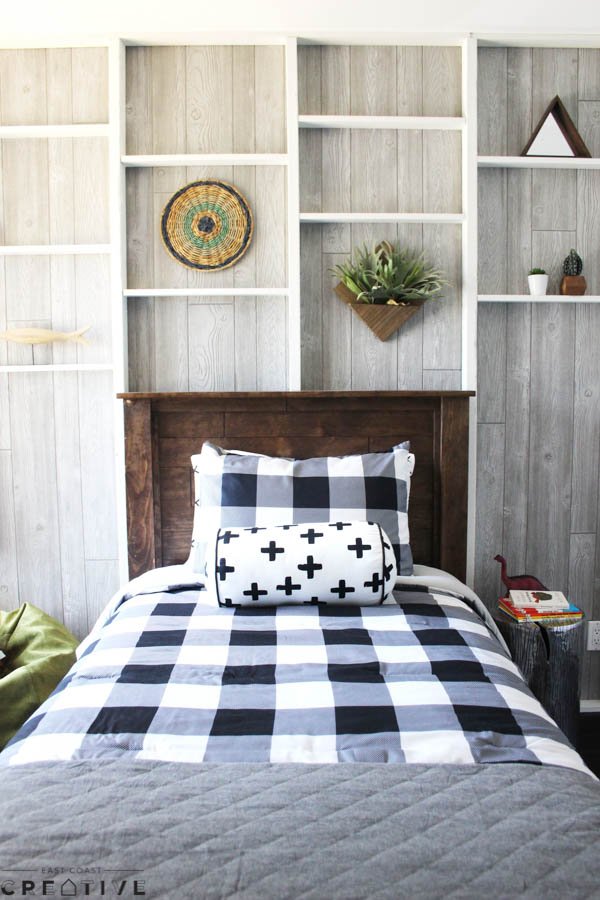 After
Before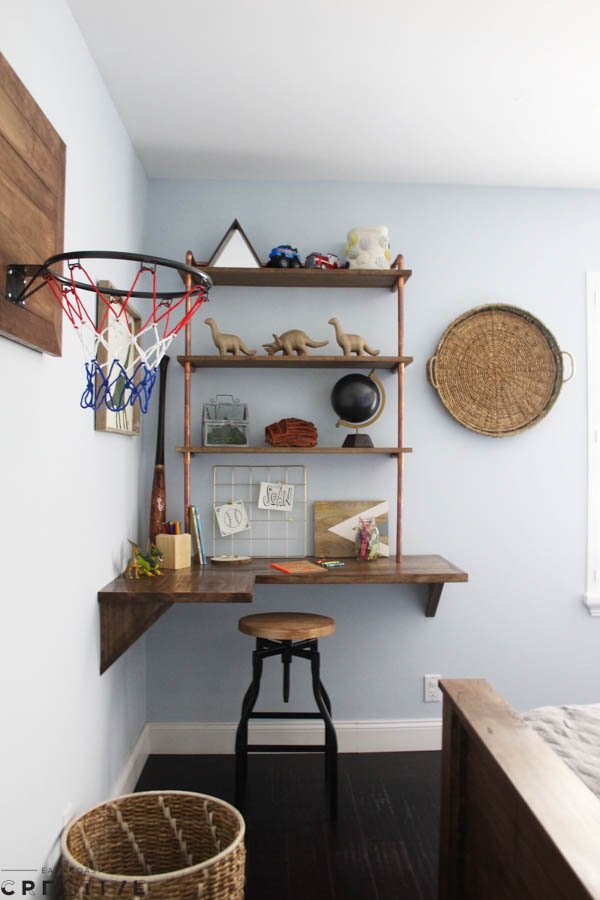 After
A great way to break up a space is by creating an accent wall, and for Sean's bedroom I wanted something totally unique and timeless, so I went with a planked shelf wall. The wood planks are actually textured 4'x8′ panels that look like individual planks, but they're gonna save us tons of time to install! We used some heavy duty nails to tack these into the wall first. Once the panels are up we took some 1×3″ furring strips to frame out the edges of this accent wall. We also used these as the 'shelves' for the wall and cut them to size depending on the pattern we wanted.
This project is great for big and small walls alike– measurements can be totally adjustable, and the material and color can also be adjusted. By building vertical separators and filling them in with horizontal boards, you can customize the shelf grid you want.
Building a bed?! You're crazy Monica! Well, I might be, but this project isn't as crazy as you might think, so stick with me here… First we took some 2×4's and created 2 hollow posts for the headboard, then using 2 smaller 1″ thick pieces of lumber, attached those to the side of the posts we just created. That will be where the planks for the headboard will sit on top of. Instead of planking the headboard plank-by-plank, we used a faux planking cut where we set the miter saw to cut just slightly through the board and not all the way– just enough to look like it's cut and planked! A nifty little trick if I do say so!
After those were faux planked, we stacked each plank on top of one another and secured them in place with another small 1″ piece of lumber on the other side, added a piece of wood to the top to seal it off, and you've got yourself a totally custom headboard! We used Minwax Dark Walnut 2716 for this headboard, and it's looking sharp!
Sean's at the perfect age where sleepovers are still fun, so I wanted to give him an extra space for friends when they sleep over (or for his sister when she wants to hang out!) so no one has to drag mattresses and blankets around. A trundle bed is actually pretty simple to make– we started out with a piece of plywood cut to the size of Sean's twin bed, plus an inch or so on every side for the side pieces we'll attach next. On the base of the plywood, I added 6 casters so this extra mattress can easily be rolled in and out from under the bed.
For the sides, we used 1×3 planks to create a bit of a lip for the extra mattress to sit into. Measuring and cutting to the size of the plywood, we then used a nail gun to attach to the plywood sheet. With a coat of the same stain we used for the headboard,Minwax Special Walnut Stain, and some handles this trundle bed is complete and ready for sleepovers!
Of course Sean's only three, but in a few years he's going to need a desk for all that homework he'll have! This build is one of my favorites from this room– here's how we made it…
We started off with some wood cut down and shaped into a corner desk surface, then added some vertical supports to attach to the wall. Next we prepped the shelves, and we had to drill some holes for the copper piping to fit through. Using a paddle bit to fit the size of the copper piping you use, drill a hole on either side of the shelf. Using a T-fitting, cut the piping with a hand cutter so one piece goes into each end of the fitting. This is how your shelves will be held up when they're on the wall. Stacking these pipes and shelves together, you'll have your whole unit ready to install! We stained the desk and shelves with Minwax Special Walnut Stain, a great compliment to the copper piping.
The shelves in this desk/shelf combo are great for storage and decor– kids have a lot of stuff and they love to show off their every-changing collections!
This project couldn't get any easier… we started with a square piece of plywood which will be the backing for this backboard. Then we cut down some horizontal planks and framing planks cut at 45-degree angles for each side of the board. Using a nail gun, we framed the outside of the board and filled it in with our horizontal planks. With some Minwax Special Walnut Stain and a coat of black spray paint on our basketball rim, you've got yourself an awesome little indoor basketball hoop or laundry shoot depending on the kid!
Check out some of our favorite products from this makeover…
[print_responsive_thumbnail_slider id="29″]
1. Safavieh Silver Forrest Metal Table Stool

2. Forte 3-Light Indoor Ceiling Light
3. Majestic Home Good Classic Bean Bag
4. Aeon Furniture Hugo Drafting Stool
5. Allen + Roth Taney Gray and Black Rectangular Area Rug
Two weeks in Miami for an amazing family? Not a bad gig! I hope you enjoyed these kids' room makeovers as much as I enjoyed planning and designing them! Let me know what you think below, stay tuned for another makeover next week!
-Mon
Don't miss a single Weekender Episode of Season 2- You can watch all Season 1 + 2 Episodes right HERE!
*The Weekender Series is a paid collaboration with Lowe's Home Improvement. I'm thankful for the brands that believe in the mission of East Coast Creative and support my work!*