Hey Guys! This post is part of The Weekender Makeover Series. A DIY Makeover web series in partnership with Lowe's Home Improvement. You can watch Season 1 + 2 on your streaming devices or by subscribing to Lowe's YouTube channel.
---
This week was definitely a fun one, and that's mostly due to this crazy adorable little girl, Olivia who has quite the TV personality! Giselle and Fernando live right outside of Miami, FL with their two kids Olivia, our lucky girl this week, and Sean. This makeover was a little bit different from the usual Weekender makeover… there was some added pressure this week. Olivia hasn't slept in her own room since her little brother Sean was born, so about 5 years! My goal this week was a double whammy, make an awesome room annnnd make this little girl sleep in her own room!
The trick for kids' spaces is to keep it cute, simple and bring in all the accessories so you don't have to re-do your space every time they grow out of a certain phase of life, so stuffed animals, wall decals, cute pillows– they're kid friendly and double as decor! Olivia loves glam, makeup and nail polish, so this was going to require me to channel my inner 8-year-old.
I wanted to give Olivia a modern, sophisticated look that is still fun and girly, but something she can grow into as well. A fresh coat of paint and a pop of color were the major transformations for this space, along with a playhouse bed and some accented pieces to bring some life to Olivia's room.
Before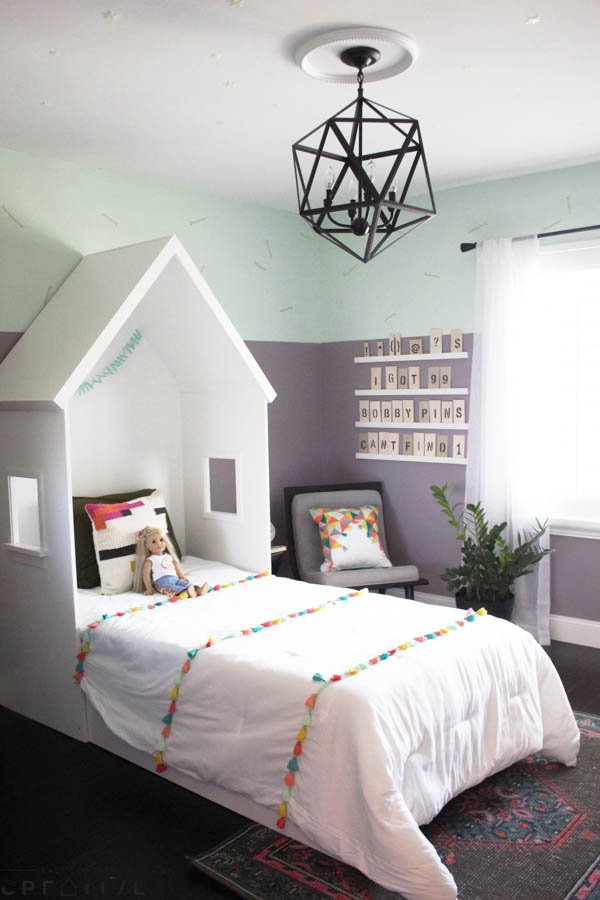 After
Before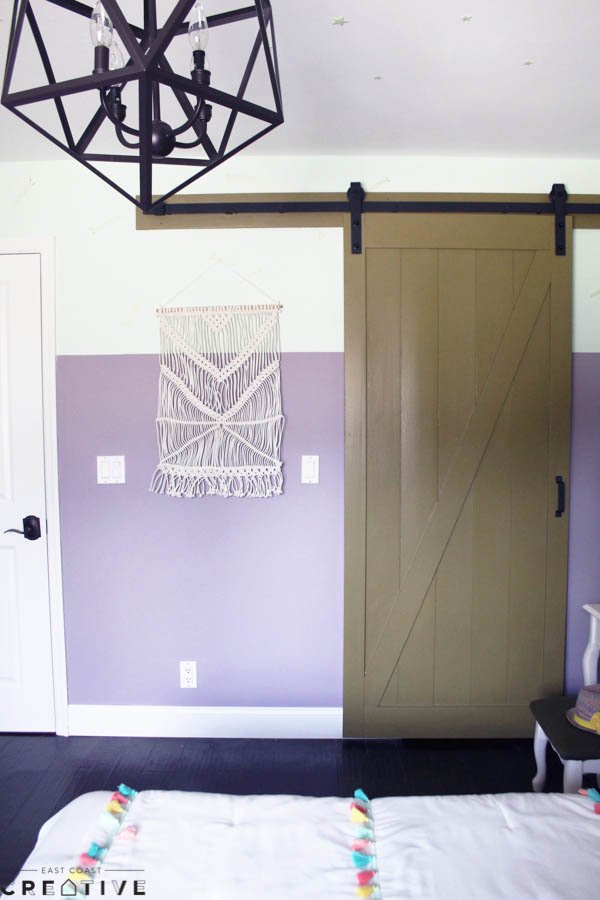 After
Before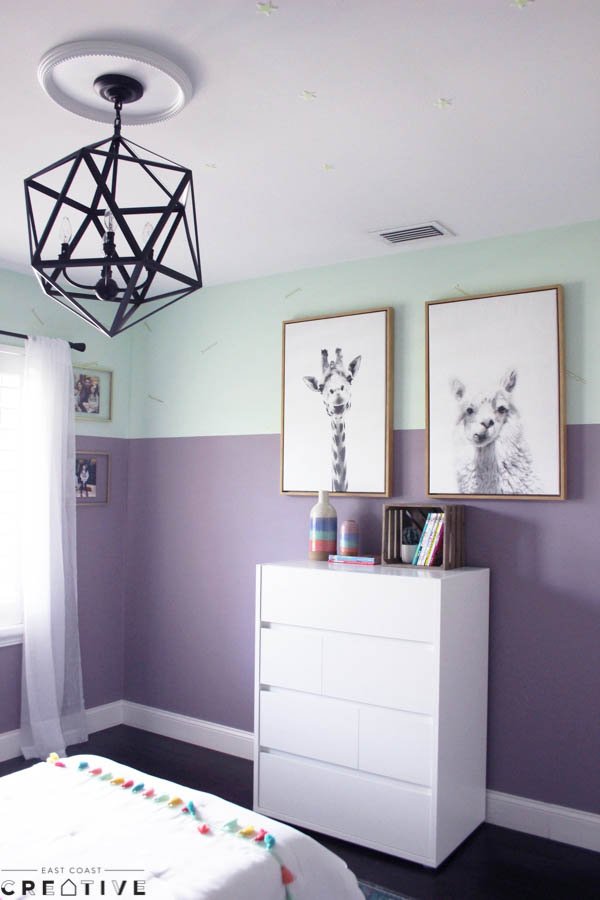 After
Before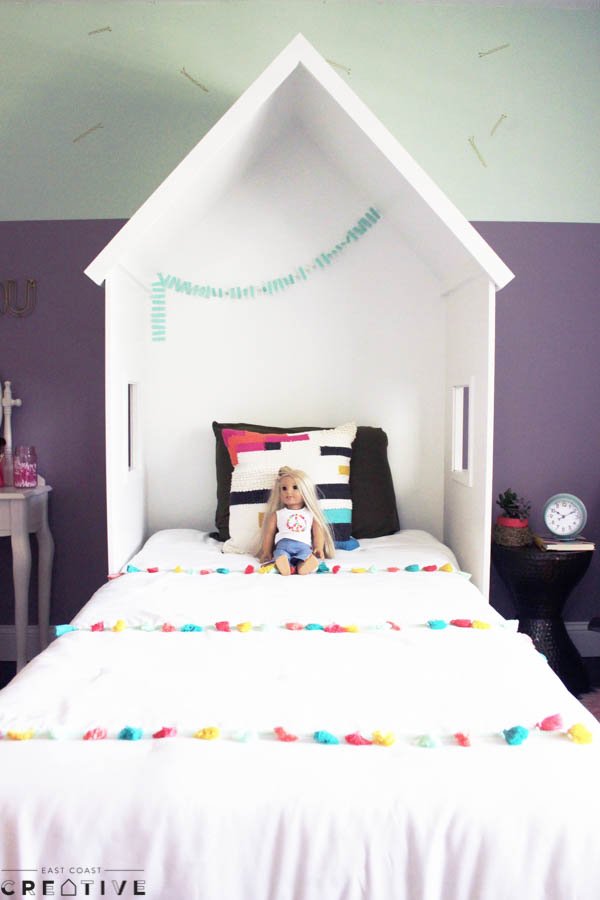 After
One of the simplest ways to update a space is by adding a fresh coat of paint. For Olivia's room I wanted to try a new way of painting and go with a 3/4 painted room. Her original wall color was a light mint green, and I wanted to keep some of that, so we balanced it out with Valspar Signature Sweet Shadows Interior Paint. This paint covers so well, we only needed one coat and some touch-ups, and best part is that it will stand up to most anything, including creative little girls who love make-up. Using a level and chalk line, mark out a straight line all the way around your room, then use some painter's tape to mark that line, and paint below the tape.
Make any bed into a playhouse with this build! With a few sheets of plywood and trim, we turned Olivia's twin bed into a place where she can sleep and play in style. We added some fun windows on the sides of the house using a jigsaw to cut out the squares and added some trim to the outside of the windows. Once the build was done, we painted it with Valspar's Paramount White Interior Paint. This is a great project for any little one, and makes bedtime more fun.
Olivia is a glam girl, and glam girls get gold accents! This simple DIY project can really step up any space. Since kid's favorite things change so often, making little decor decisions for their space is easier to change up than say adding a huge mural or permanent decals. With a water-based gold paint pen, we stenciled on little bobby pins to the top half of the wall– subtle glam, but definitely fun for this little girl's room!
Barn doors have totally been trending, and they're better than your standard hollow core door. For Olivia's closet door, we replaced it with this ReliaBilt Solid Core Pine Barn Door. Lowe's sells this entire door kit with all the pieces you'll need to install it properly. Painting the door an accent color really make it pop in the space. The great part about this door is that it simply slides open and shut, so no extra space is taken up with an open door!
Kids are infamous for changing their minds and loving something new every day it seems, so this project was especially catered to Olivia's creativity and fun personality. This easy wall letterboard is a great option for any room, and allows any child to express themselves through words. This letterboard project is a great learning tool, too (that's the teacher in me talking!) You'll want to take some thin pieces of wood trim and cut it into pieces about 2″ each. Decide how many lines you want, then using a table saw, we set the blade a little lower as to not cut through the whole piece of trim. You want more of a crevice on the top of each piece of trim so the letter pieces will stand up in them.
For the letters themselves, we cut thin pieces of balsa wood into little rectangular tiles, then with a stencil and some paint added letters and symbols to each piece. Get creative! Using symbols, pictures, and letters you'll have endless combinations and hours of fun with this project!
Check out some of my favorite products from this makeover…
[print_responsive_thumbnail_slider id="28″]
1. Kangaroo Trading Company Black Frame Rave Chair

The perfect chair for a reading nook, and it's super soft and comfy too!
2. Quoizel Bronze Industrial Multi-Light Chandelier
Even little girls can have some sophisticated pieces in their room like this awesome light fixture!
3. Woodland Imports Metal Stool
I love side tables– they can hold anything from your practical alarm clock to a funky plant or favorite toy.
4. Surya Zahara Gray Indoor Oriental Area Rug
A sophisticated design with some fun pinks and teals for this little girl!
Even more exciting than turning this space into a fun little girls' sanctuary, Olivia actually slept in her own room, and her own bed after this makeover! Mission totally accomplished!!!
-Mon
Don't miss a single Weekender Episode of Season 2- You can watch all Season 1 + 2 Episodes right HERE!
*The Weekender Series is a paid collaboration with Lowe's Home Improvement. I'm thankful for the brands that believe in the mission of East Coast Creative and support my work!*