Hey Guys! This post is part of The Weekender Makeover Series. A DIY Makeover web series in partnership with Lowe's Home Improvement. You can watch Season 1 + 2 on your streaming devices or by subscribing to Lowe's YouTube channel.
---
This weekend I visited Nashville to visit this super cute couple in need of a patio makeover. Laura and Kelly had only lived in their home for a few months, and they knew from the start their deck would be the spot they would spend the most time in and entertain guests. They're both busy full-time PA's, and work crazy longs shifts at the hospital, so this deck needed to be their rest and relax zone after a long day of work. Lucky for them, they had a great space to work with.
Not only do Laura and Kelly have a great deck, they also have a phenomenal backyard, with plenty of space for entertaining, parties, and for a few surprises I had planned for this makeover. But, funny story, (or not so funny in the moment) when we got to their house, it was raining. And by raining I mean POURING. I'm talking buckets of rain, wind gusts, some hail, and, oh yeah… tornado warnings. That definitely made this makeover slightly more of a challenge than normal, but I didn't fly down here for nothing!
Laura and Kelly love to entertain, so the plan for this deck was cozy, cool and modern. Lots of charcoals, grays and some subtle pops of color and warm wood tones filled this deck space, and brought this whole project together.
Before
After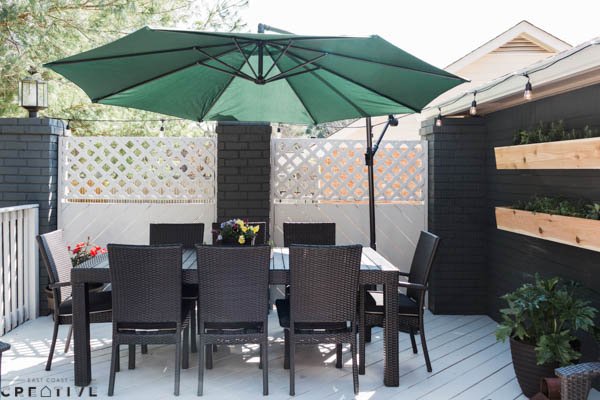 Before
After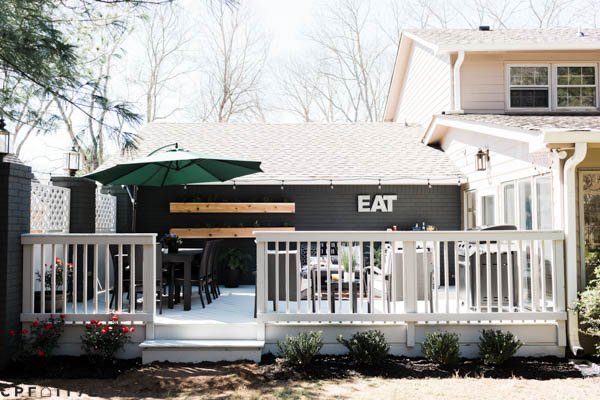 Before
After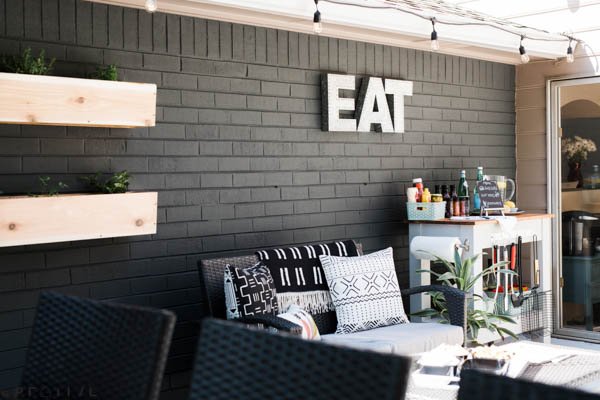 Before
After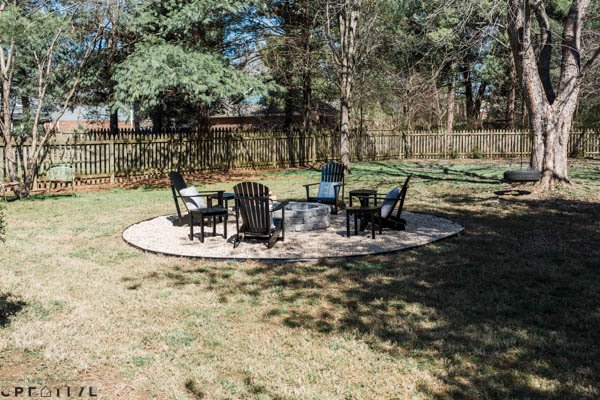 A large project like a deck is a lot more attainable and less scary when you break it down to 5 main– everything after that is easy peasy, trust me!
I'm all for natural wood grain and keeping authenticity, but this deck and brick were far from the cool vibe I wanted to give Laura and Kelly for this space, so bye bye red brick and wood! Painting brick is a super easy way to update any outdoor space and it gets major impact points. We used Valspar's Muted Ebony exterior paint for the walls, and Olympic's Cape Cod Gray for the deck stain. The awesome thing about this stain is that 1. It's a stain, people… It looks like paint, but it's not! The coverage is super awesome, and you still get that woodgrain through the color, and 2. it's super durable, and will hold up under foot traffic and weather conditions.
Outdoor entertaining definitely equals grilling no matter where you live! This DIY grill cart was the perfect addition to Laura and Kelly's deck, and the wheels make it awesome for transporting. With a few pieces of wood, some stain and a little bit of elbow grease, this is a totally customizable project for any deck. We attached some hooks and hangers for paper towels and grilling tools so this is the perfect outdoor prep station!
Who doesn't love fresh herbs?! Not only are they pretty to look at, but they're also delicious and make a world of difference when you're cooking. We built these cedar planter boxes to hold a variety of herbs so Laura and Kelly had a nice variety to cook with. You'll want to decide how long you want your boxes to be, then start building! With some cedar boards, you're basically going to build an open top box, cutting the back board at a slight angle to mount onto the wall.
We wanted to show off the natural, warm tone of the cedar, so we just sealed the outside of these boxes with an outdoor waterproof wood sealant, and used some heavy duty screws to attach to the brick wall. Add some herbs, and you've got yourself a new wall garden!
Here's the awesome backyard I was talking about– so much space, and it was just begging for a fire pit! This is one of those projects that take a bit more muscle than brain power, so recruit some friends to help you with this one. You'll want to figure out how large you want the circle to be, then how big you want your fire pit space to be. Using a stake and a piece of string attached to it, mark out the outer and inner circles with some spray paint. Next, using some ground cover fabric to fill that outer circle, and edge the outer rim so you can put in some yard edging to keep the stones from falling out. Stacking some concrete fire pit blocks in a staggered pattern, you've got yourself a totally legit fire pit area. Add some adirondack chairs, some cute throw pillows and you're ready for some s'mores!
Landscaping is an easy way to spruce up any outdoor space– with a few green shrubs and some pops of color, you can really transform your yard! No flower beds? No problem! A few simple landscaping tools can get the job done quick and easy. We made two squared-off beds just next to the porch on either side of the step, and it really framed the deck nicely! Adding potted plants and flowers to your table and deck are great ways to add a nice pop of color. Make sure you check the care requirements for the plants you buy– outdoor plants have slightly different care instructions than your typical indoor houseplant.
A few favorites from this modern outdoor makeover…
[print_responsive_thumbnail_slider id="27″]
1. International Concepts Adirondack Chair
Nothing says outdoor relaxation like a solid Adirondack chair– so we gave Laura and Kelly 4 of them! This classic style chair will never go out of style, and it's comfy, so win, win!
2. RST Brands 9-Piece Patio Dining Set
Outdoor dining doesn't have to stop at that old picnic table, upgrade to a durable patio set that will accommodate your whole group of guests and stand up to any weather.
3. Char-Broil Stainless Steel Propane Gas Grill
This grill is a superstar– it's advanced cooking system and side burner are perfect for hosting and entertaining, and you might not ever want to cook inside again once you get a taste of what this grill can do!
4. Lauren Company Patio Umbrella
I love this umbrella because it's HUGE and it has great coverage. The offset pole is an awesome feature, and allows you to cover pretty much your whole table. Helloooo shade!
I'd like to say this Weekender makeover was a success, and Laura and Kelly even invited some friends and family over the day of the reveal for their first cookout in their new space! Any night that ends in s'mores is a win in my book!
-Mon
Don't miss a single Weekender Episode of Season 2- You can watch all Season 1 + 2 Episodes right HERE!
*The Weekender Series is a paid collaboration with Lowe's Home Improvement. I'm thankful for the brands that believe in the mission of East Coast Creative and support my work!*