Hey Guys! This post is part of The Weekender Makeover Series. A DIY Makeover web series in partnership with Lowe's Home Improvement. You can watch Season 1 + 2 on your streaming devices or by subscribing to Lowe's YouTube channel.
---
Meet this adorable newlywed couple from Charlotte, NC– Marina and Aleks. I almost couldn't believe they'd been living in their first home for almost 2 years already– so cute, young, and totally still in that honeymoon stage! Their first home together is a brand new 2-story builder grade home… the perfect backdrop for a makeover!
Marina is still a full-time student, and Aleks works as an aircraft mechanic, so this couple is a little busy to say the least. They're the first owners of their current home, so it was new when they moved in, but definitely lacked personality and the glam that I soon found out Marina wanted. Because this space is the first thing guests see when they walk through the front door, we wanted a total "wow-factor" and I'd like to think we nailed it.
This makeover was all about the glam and little details, so I wanted some neutrals, a light pop of color (helloooo pink!) and a darker color to ground everything and keep this room young and lively like our adorable couple.
This transformation was definitely one for the books…
Before
After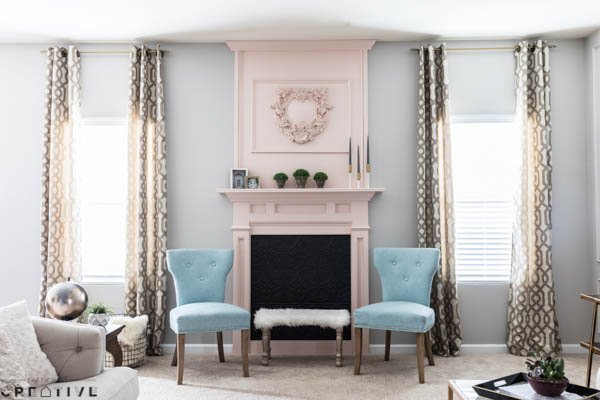 Before

After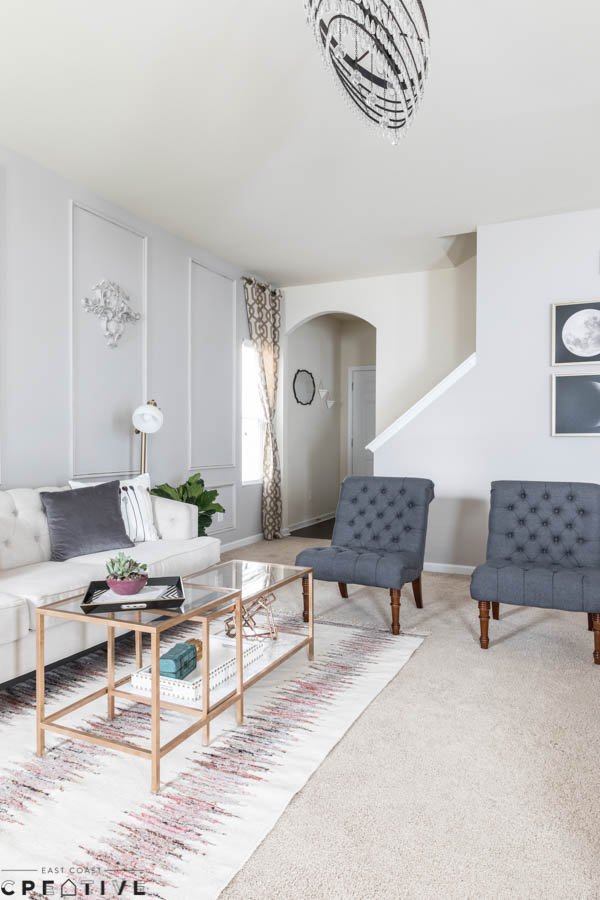 Before

Before

After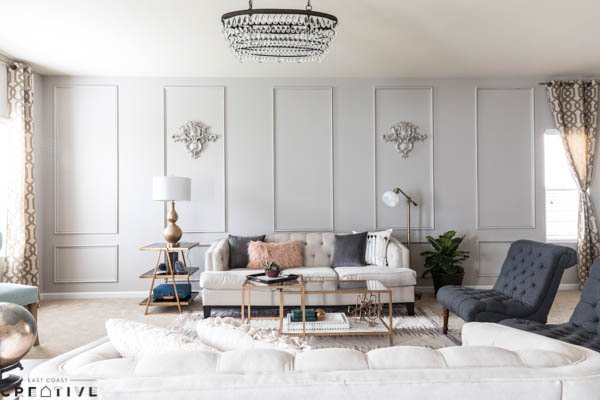 I just love seeing how much 5 main projects can change a space… I know I say that every episode, but by golly I mean it, so I will continue to say it. Here are the FIVE that changed this living space…
Our goal for this room was glam, and glam we got with this EverTrue Crown Moulding. With just a few pieces we were able to create large-scale frames on the largest wall in the living room that took this space from builder grade to totally custom. Attach to the wall with some wood glue and a nail gun.
For that next level glam we added some decorative Ekena Millwork Appliques and spaced them out along the frame wall. With a fresh coat of HGTV Home by Sherwin-Williams Alpaca, this wall was looking good! Also, can we talk about the natural light in this space?! It makes everything look so bright and expensive and amazing, and it's the perfect spot for Marina and Aleks to entertain guests!
A fireplace doesn't have to be functional to be in a home– it can just sit pretty like this one! Lowe's carries fully-built mantles and mantle ledges so you can decide if you want to customize the whole project, or just bits and pieces. By adding some molding strips to the sides of the mantle and extending vertically to the ceiling and a Decorative Millwork Applique in the center, this fireplace is a stunner piece in this space. We filled the open space of the fireplace with Black Faux Tin Ceiling Tiles to balance the soft pink of the fireplace with some matte black edge.
Painting any fireplace– new or old is a great way to spruce up your space. We painted Aleks and Marina's faux fireplace with HGTV Home by Sherwin-Williams Romance, which was just enough pop for this glamorous room.
Paint is the easiest way to transform a space, and this weekend we said farewell to the builder grade cream and brought in HGTV Home by Sherwin-Williams Alpaca to cool down the space just a bit. Since this room gets so much light, the cool tone of this paint wasn't too much and the pink of the fireplace balanced the color out perfectly.
Gold is glam, everyone knows that. Too much gold is too much glam, so we thought of a solution to bring in some subtle gold accents. Using Rust-Oleum American Accents Gold Interior Paint, dip a little paint onto a paper towel and lightly rub over the surface of the ornate medallions.
A fresh coat of paint is definitely what this room needed, but we wanted the medallions to look a little less fresh and little more antique.
What if I told you we made this fabulous little footstool in under 30 min? Well, it's true. We used some faux sheepskin, a sturdy piece of pine board, some prefab Waddell Pine End Table Legs, and some gold spray paint to get this luxe piece of furniture. With a few simple customization options like these classic table legs, adding some gold spray paint took it to a whole new level. We used a staple gun to attach the sheepskin piece onto the board, and some simple table leg brackets to screw the legs into place.
5 projects transform the space, but there are lots of pieces that play very important supporting roles in the makeover. Use the slider below to see all the products. You can click on any one to be brought to the source.
[print_responsive_thumbnail_slider id="25″]
A few favorites from this glam space…
This glam little guy can make a world of difference in a space, and these appliques took the walls in this space from drab to totally fab!
2. Allen + Roth Bronze Crystal Tiered Chandelier
Make a statement with this show-stopping chandelier! Best part about this one is that it's a Lowe's stock item, and it's super easy to install, but fools your guests otherwise into thinking you're pretty fancy!
3. Baxton Studio Caelie Lounge Chair
Every luxurious room needs a sophisticated accent chair (or two) and this Baxton Studio chair totally fits the bill.
4. Allen + Roth Brass Indoor Floor Lamp
-Mon
Don't miss a single Weekender Episode of Season 2- You can watch all Season 1 + 2 Episodes right HERE!
*The Weekender Series is a paid collaboration with Lowe's Home Improvement. I'm thankful for the brands that believe in the mission of East Coast Creative and support my work!*