Hey Guys! This post is part of The Weekender Makeover Series. A DIY Makeover web series in partnership with Lowe's Home Improvement. You can watch Season 1 + 2 on your streaming devices or by subscribing to Lowe's YouTube channel.
---
This week we spent some time with Amanda, a first-time homeowner living in the heart of New Orleans, Lousiana.
Almost 12 years after Katrina hit the city and after she graduated college, Amanda bought a classic shotgun-style home, but there was a lot of fixing up to be done. The home has some quick repairs done right after the storm, but other than that, it's been left alone. Amanda is a busy elementary school teacher so she hasn't had much free time to spend on the house, but lucky for her, we came to town to help her out!
New Orleans style homes are pretty different than your typical home– taller doorways, super high ceilings, and long, narrow floor plans- traditional shotgun style. Because Amanda's home has an open floor plan, you can see most of the rooms from the moment you walk through the front door, so we definitely wanted a showstopper kitchen. I also wanted this room to be the one that kick-started Amanda's goal to start working on the rest of her house.
Amanda loves where she lives, and fell in love with the charm of New Orleans from the moment she moved there. She wanted a classic southern style, but but also a space that reflects her youthfulness – somewhere where she could relax, but feel inspired to cook up something new and find time to enjoy her time outside of work.
High ceilings and doorways? A fireplace in the kitchen? Not bad features to start off with! With a few surprises for Amanda, this room was definitely going to check off all of her must-haves!
Before
After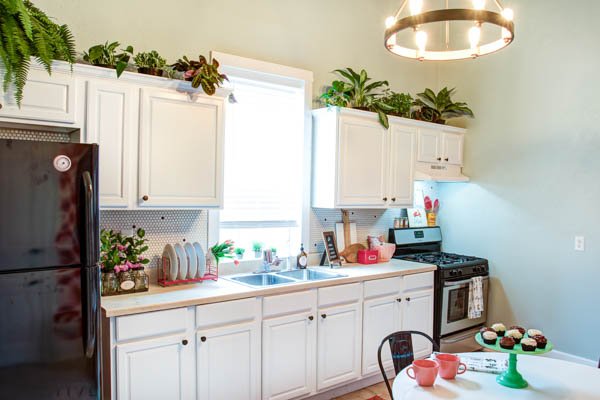 Before

After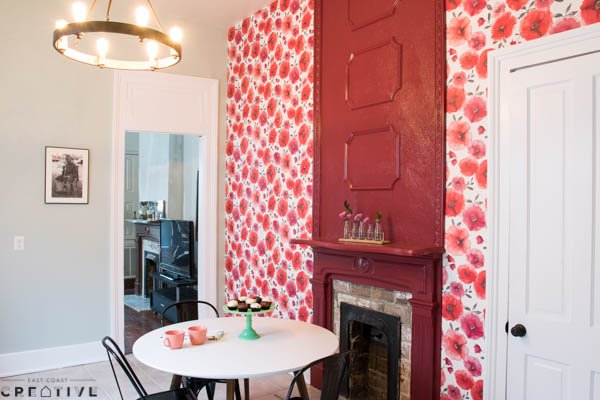 Before

After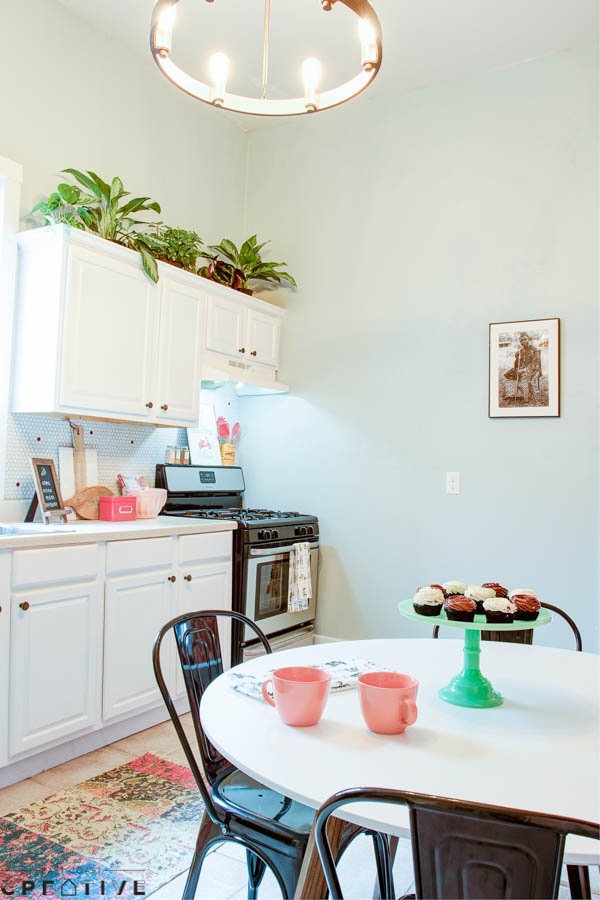 Before

After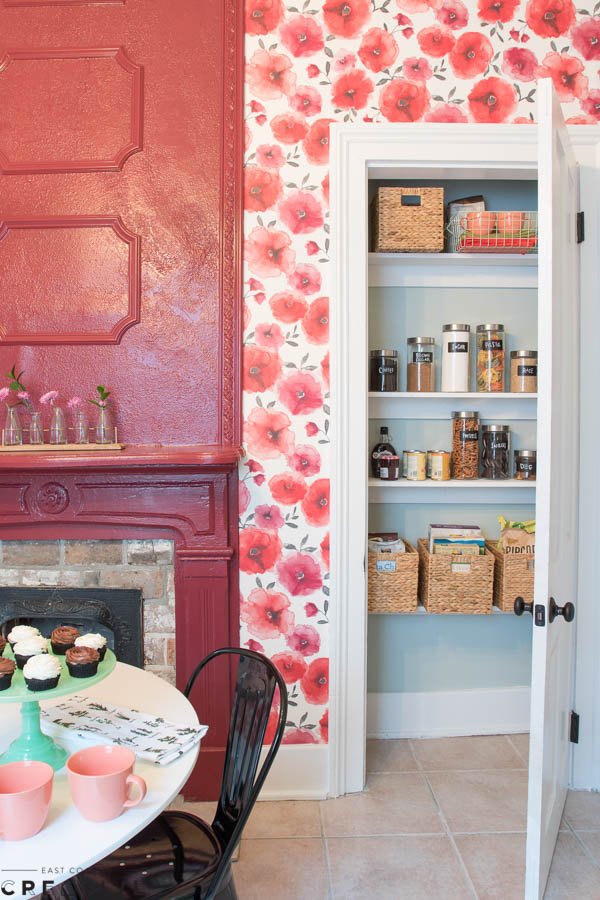 We packed in 5 projects that made a huge impact in this kitchen this weekend!
Tiling anything can seem intimidating to any homeowner if you've never done it before, but this weekend we wanted to show Amanda that it isn't as complicated as she thought! We used Style Selections Round White Penny Tile for the kitchen backsplash. Getting penny tile in colors can be pricy, so we customized some of our tile with ceramic paint that you can pick up at any craft store. It was my first time trying this DIY and I see lots more of it in my future! The options are pretty much endless- Stay tuned!
If you're taking the time and effort to put up wallpaper, might as well make it bold and awesome! I gave Amanda this Superfresco Easy Red Floral Wallpaper that perfect paired with the fireplace we painted. These watercolor poppies were the perfect amount of punch we needed to take this space from pretty + classic to classic with a, young, hip, New Orleans twist. Lowe's has wallpaper kits with everything you need to try it in your own home, so there's no excuse not to give it a whirl!
Not everyone is lucky enough to have a fireplace in their kitchen… I mean, c'mon, that's awesome. With such a great feature, we had to make it the star in this space, and that meant exposing some brick that was peeking out of the plaster, adding some molding accents, and some paint!
By adding some prefab molding frames (the little rectangles you'd normally use in a dining room) to the wall above the fireplace, and some decorative molding strips along each sides, up to the ceiling, we were able to extend the height of the fireplace as a whole and make the room seem even more spacious– helloooo high ceilings! Then, adding a few coats of HGTV Home by Sherwin-Williams Radiccio Leaf to the mantle, we painted the entire mantle, surround, wall, and molding making it appear as one cohesive piece. This fireplace added a whole-lot-a-drama to this kitchen, while the 100 year old brick kept all the history + charm.
Sometimes replacing your cabinets isn't in the budget, but giving them custom upgrade can make a big impact with just a few steps. One thing that separates custom and builder grade cabinets is crown molding. It's standard on custom and pretty much never seen on builder grade, but… it's an easy addition that makes a big difference! We first added crown to the tops of the cabinets, then, after sanding down Amanda's cabinets, we painted them with HGTV Home by Sherwin-Williams Dover White to keep with the crisp, clean feel of her kitchen to let the wallpapered fireplace wall shine. Lastly we added hardware and that finished off this spiffy little cabinet facelift.
This project is probably one you can all relate to– pantry organization. I'll be honest in saying my own pantry is not always this pretty, but I've got some pretty simple tips to getting it to this level. Baskets to hide the "ugly" packages and bulky bags, clear jars and containers with labels for bulk foods and ingredients like beans, flour and sugar, pretzels, etc, and fun wire baskets for things like extra napkins and dining tableware. Give the back wall a coat of paint to pretty it up too– you'd be surprised how much brighter and cleaner it will look once you get away from builder grade white! In my mind this was just a little, fun addition to the space, but oh my goodness, it made Amanda burst into tears- she just kept saying, "It's just so cute!" lol Did I mention I love this job?
5 projects transform the space, but there are lots of pieces that play very important supporting roles in the makeover. Use the slider below to see all the products. You can click on any one to be brought to the source.
[print_responsive_thumbnail_slider id="24″]
A few favorites from this room…
4. Kicheler Bronze Rustic Chandelier
Amanda loved her kitchen, and if you love watching tear jerker room reveals, you don't want to miss this one! Amanda is a fun as she is sweet and I loved every second we got to spend together over the weekend! Oh, she also brought me to an awesome coffee shop, so that won her serious Monica points too! Let me know what you guys think of this episode!
-Mon
Don't miss a single Weekender Episode of Season 2- You can watch all Season 1 + 2 Episodes right HERE!
*The Weekender Series is a paid collaboration with Lowe's Home Improvement. I'm thankful for the brands that believe in the mission of East Coast Creative and support my work!*