Hey Guys! This post is part of The Weekender Makeover Series. A DIY Makeover web series in partnership with Lowe's Home Improvement. You can watch Season 1 + 2 on your streaming devices or by subscribing to Lowe's YouTube channel.
---
Meet Tiffany, a first-time homeowner who lives in New Orleans, Louisiana. Tiffany grew up with her family in Las Vegas, but she recently moved down to Louisiana for her current job, where she bought her very first home. Tiffany didn't want to live in downtown New Orleans, but rather a quieter section of the city where she could have ample yard space and square footage, but her home is lacking some style and pizzaz that she certainly has!
Her single story, stucco home has great shape and features, so taking this outdoor space from basic to custom and cool was going to take a few hands and a lot of determination, but it was totally attainable, andddd no scaffolding required! Yay!
Growing up in Las Vegas, Tiffany was accustomed to the Palm Springs desert-vibe of that area, and since moving to New Orleans, she was a little homesick and wanted to bring a little bit of that to her own home. So the plan? Bring that desert fun to Louisiana!
Bright colors, cacti, concrete and simple, sleek shapes and materials were a must, and key components to achieve the classic Palm Springs look.
Before

After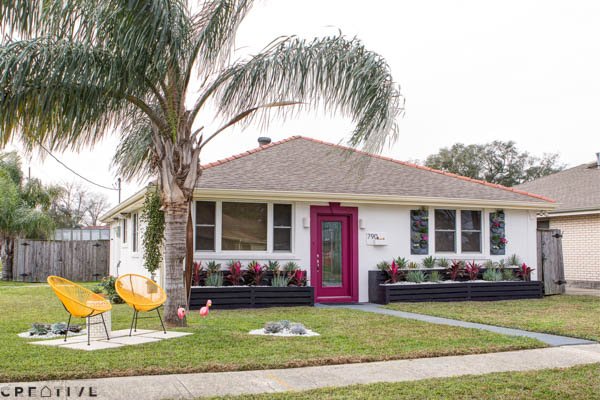 Before

After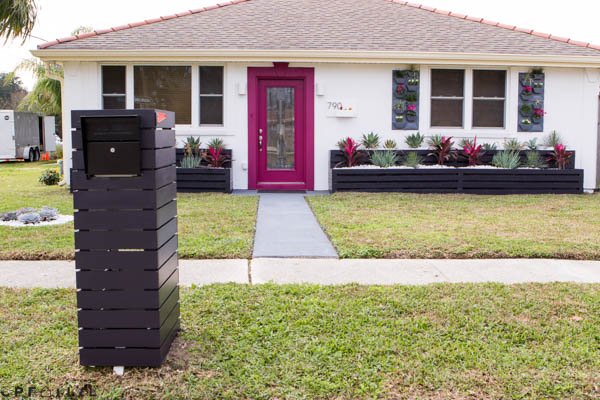 Before
After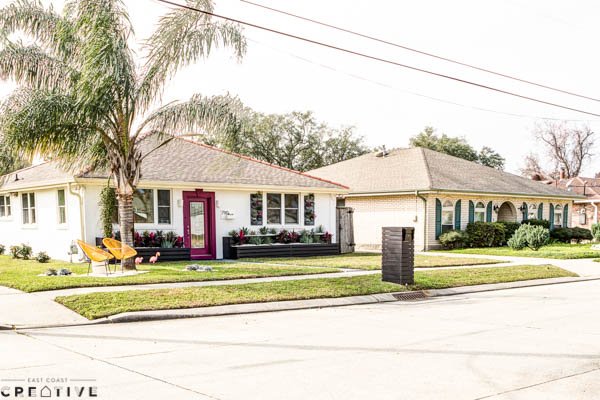 Renovating the entire exterior of a home could take months, but here are a few quick and easy weekend-approved projects that gave her home major curb appeal.
Painting a house can seem like a daunting task, but Tiffany made it a little easier on us– with only one story, and a step ladder, we were able to give her home a major facelift with HGTV Home by Sherwin-Williams Marshmallow. It never ceases to amaze me at how much a space can be transformed with just a few coats of paint, and this was a mega change!
Talk about an upgrade! This mailbox build was pretty simple– nothing some wood and paint can't fix. By building a basic planked box frame around the pre-existing mailbox post, we could slip it over the top, slide in our new Modern Mail Manager Metal Mailbox, add some paint, and have a completely transformed, super awesome and custom mailbox.

You see tons of awesome, modern planter boxes everywhere in Palm Springs, so I wanted to bring that detail to Tiffany's home by giving her custom planters to line the front of her house. Since we went all white for the exterior of the house, we could go a little darker on the planters since we were going to fill them with bright colored plants and white rock.
We painted the planters with HGTV Home by Sherwin-Williams Domino, a deep eggplant purple which gave us the dark we wanted to contrast with the bright white without being too dark.
This little project couldn't have been simpler (and cuter!) With a few pieces of plywood, we created a smaller open-top box and secured that to the back piece, then that became the planter part of the project. We added some paint to match the house, Hillman Group House Numbers and adorable little cacti, of course!
This mini patio area was as easy as arranging these patio stones in a grid, adding some fun furniture, and some mini plant beds. These Patio Stones come in various sizes, colors and materials, so you can opt for a more simple, modern approach like we did here, or mix things up a bit and get a little fancier. Your lawn, your rules.
[print_responsive_thumbnail_slider id="23″]
Here are some of the goods that made up this makeover…
Dang this mailbox is sleek! The perfect fit for our modern mailbox build, and it's strong and secure with a lock opening so your mail stays nice and safe!
2. Ameritec Paintable Bisque Outdoor Wall Light
These wall lights are paintable so you can either leave them as is, or paint them to your heart's content.
3. Mayan Hammock Lounge Chairs
These chairs added such a fun pop of color to the front of Tiffany's house, and are the perfect patio accessory!
4. PlantScape Hex Vertical Garden Panels
These vertical plant panels are the perfect building blocks for a unique planter. They come in different shapes, and you can paint them for more variation– the possibilities are endless!
5. Garden Treasures Steel Barrel Garden Stool
This little garden stool also made for a great side table in our seating patio. It's weather resistant and super cute too!
I hope this outdoor showed you that an exterior renovation isn't as scary as it can look! Sure we had some late nights, but it was all worth it in the end!
-Mon
Don't miss a single Weekender Episode of Season 2- You can watch all Season 1 + 2 Episodes right HERE!
*The Weekender Series is a paid collaboration with Lowe's Home Improvement. I'm thankful for the brands that believe in the mission of East Coast Creative and support my work!*