Hey Guys! This post is part of The Weekender Makeover Series. A DIY Makeover web series in partnership with Lowe's Home Improvement. You can watch Season 1 + 2 on your streaming devices or by subscribing to Lowe's YouTube channel.
---
Let me introduce you to Hannah, our awesome homeowner this weekend…
Hannah is a first-time homeowner who purchased this condo a little over a year ago, but has been pretty stuck as far as design goes. The high ceilings and that fabulous wooden accent wall totally sold Hannah on the home, but it had some downfalls too… one of the biggest being the kitchen. Although it was monochromatic, it was all straight from the 70s and needed a facelift. The other challenge, is one that's all too familiar to most of us… hand me down furniture – it was time to take this home from college dorm chic to modern and sophisticated (and raise your hand if you owned that black and white rug at one point or still?!? lol I think every human did)
Hannah's young and hip, she travels a lot, loves being active and just has a really cool personality – her home wasn't reflecting that as much as she wanted it to. She loves neutrals and wanted to add some life to the space. My plan was to give her exactly what she wanted, and some… enter alternative neutrals, loads of texture, and greenery!
Two days later, I think we nailed the effortless modern look, check it out!
Before
After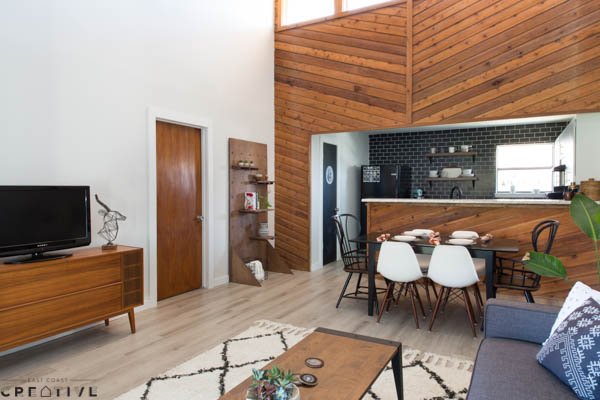 Before

Before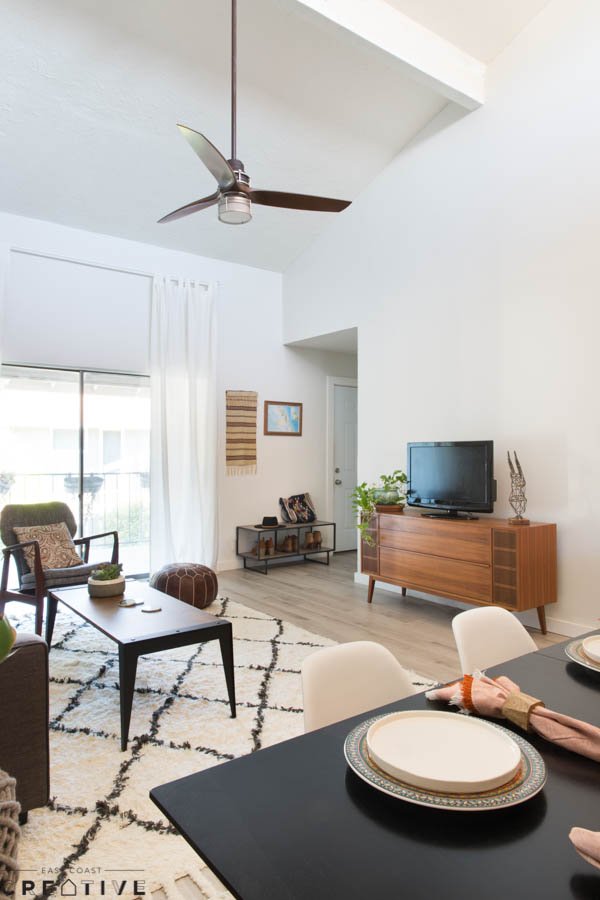 After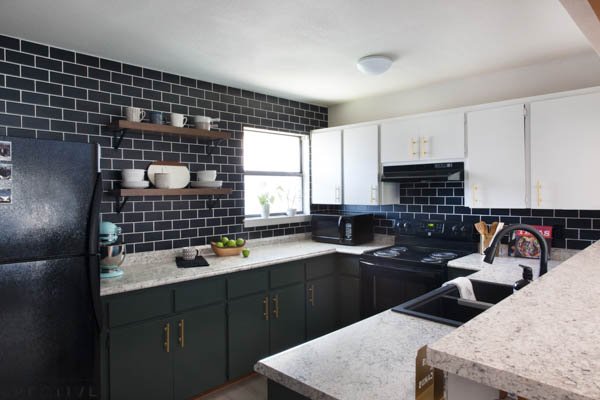 After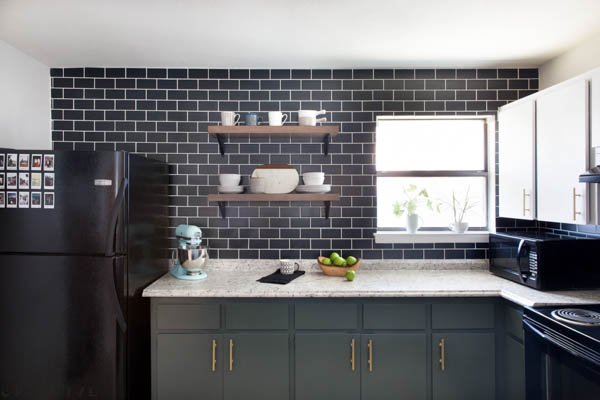 Doing a kitchen and living room reno may seem super intimidating, especially over a weekend's span of time, but we focused on 5 main projects that made a big impact.
Watch out, I'm about to blubber over this tile, but how can I not?! This matte black subway tile really took this kitchen to a whole new level of cool. Generally you see subway tile in a glossy, white finish (which I do love), but I was drawn to the matte finish on this version because of the texture it gave the room. Paired with white grout, it makes the room feel cool and fresh, and not overly heavy or dark.
We removed half of Hannah's upper cabinets, and before you get crazy about her losing storage space, can I let you in on a little secret… all those cabinets were filled with take out containers and really not used much at all. Hey- being in your 20s is a pretty awesome phase of life-embrace the take out! Ha! These Style Selections Wall Shelves provided all the storage she needed for her dishes and mugs and still left us with a clean, simple look.
Even though Hannah's cabinets were older, they were in excellent condition. The upper cabinets had already been painted white, so all we did was add hardware. These Lew's Hardware Pulls are a tiny bit of a splurge, but they add so much style and compared to purchasing new cabinets, it's a much more budget friendly kitchen upgrade! Sometimes, adding a few higher end finishes are just what a space needs!
For the base cabinets, we painted them Shade Grown from HGTV Home by Sherwin Williams line. It's one of my personal favorite colors right now – I actually painted my studio kitchen cabinets the exact same color! Hannah thought black, white, and grey were her only neutral options, but this deep green worked great as a neutral in her space and she ended up loving it!
Hannah's countertops had to go. They were stained and damaged laminate that were original to the home. She was a bit surprised however, when I told her that we were replacing her laminate with… umm laminate. Here's the thing, laminate has come such a long way since the 70s. It sometimes gets a bad rap because of the 70s stigma, but the styles and offerings are so good these days!
We chose the VT Dimensions Formica Laminate Countertop that had a great solid surface look and a nice ogee edge to it. You usually see this edge style on granite, so having the option on laminate really kicked it up a level.
Guess what…? Matte black sink! Check that beauty out! It's the Kraus Double Basin Kitchen Sink from Lowe's– so modern and cool, and it just had to go in this kitchen (and maybe mine too…)
This photo ledge was made in about 10 minutes, only used 3 pieces of wood and a few nails, but it looks like a hundred bucks because of it's long, custom size! This is such a great piece to add to any room and it allows you to display artwork in an unique and sophisticated way.
Another inexpensive but super impactful build! This pegboard vertical shelf was the perfect addition to this little wall in Hannah's living room. It's storage but it doubles as decor, so that's a win in my book!
With a few drilled holes, dowels and plywood boards, we were able to totally customize this piece and make it a statement for the living space! Check out Lowes.com/weekender for the details on this build!
[print_responsive_thumbnail_slider id="21″]
Since we basically made over two rooms in one space, here are (just a few) of our favorite products we used!
This rug is a great step up from college dorm and grown up living room– modern with a hint of sophistication.
These metallic hardware pulls were the perfect addition to this cabinet makeover, adding some class to this modern kitchen. They're some of my favorite pulls and I also used them in the geometric library shelving in my own home.
3. Kraus Black Drop-in Kitchen Sink
Matte black sink to match the matte black tile? Don't mind if I do!
Matte black? You guessed it! This lamp is also pretty light and doesn't take up much space while still making an impact.
5. Baxton Studio Dining Arm Chair
We mixed and matched these chairs with a more modern chair for a modern cozy feel.
This Living Kitchen makeover was a lot of work, but totally worth it, and I think Hannah would agree! It's amazing to see what can be done with a little bit of help and a whole lot of determination!
-Mon
Don't miss a single Weekender Episode of Season 2- You can watch all Season 1 + 2 Episodes right HERE!
*The Weekender Series is a paid collaboration with Lowe's Home Improvement. I'm thankful for the brands that believe in the mission of East Coast Creative and support my work!*