Hey Guys! This post is part of The Weekender Makeover Series. A DIY Makeover web series in partnership with Lowe's Home Improvement. You can watch Season 1 + 2 on your streaming devices or by subscribing to Lowe's YouTube channel.
---
This week we paid a visit to Jesse + Alex Coulter who live just outside of Austin, TX. This couple just had twins a few months before we showed up to makeover their garage, so to say that they had been too busy to renovate their garage is a bit of an understatement. Both Jesse and Alex work full-time jobs, and with three kids, their spare time is limited to weekends, but lucky for them, it ain't called The Weekender for nothing!
Jesse and Alex don't park their cars in the garage, so it's more of a work and storage spot for, well, everything. Tools, spare furniture, kids toys, gardening supplies… you name it, it was in there. Alex loves wood-working projects, and Jesse is a blogger and Youtube-er, so she'd love a space to setup for her projects, too. The biggest challenge this week was to make this space dad-friendly, but also mom and kid-friendly… Challenge accepted.
For this mudroom, I definitely wanted to give Jesse and Alex both a space where they could work and relax and play with the kids, and the mood board covered it all!
Before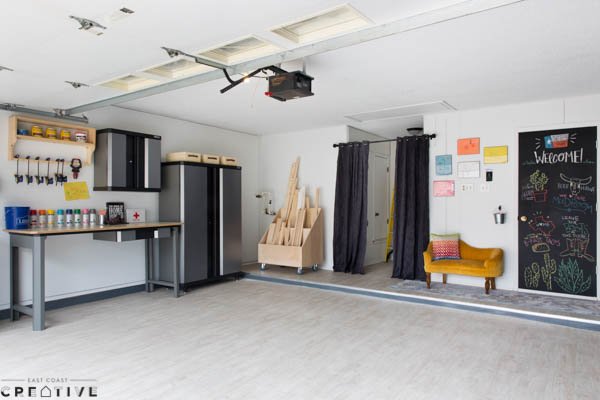 Before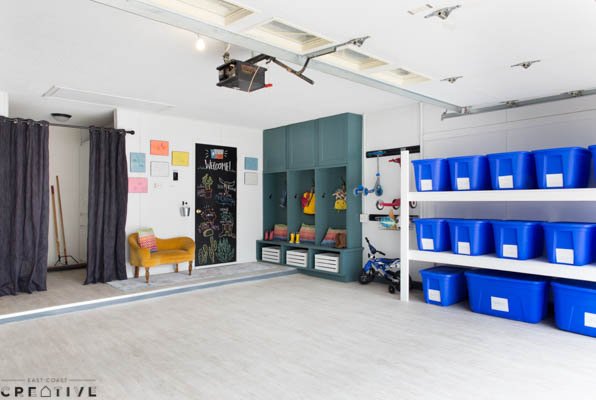 Before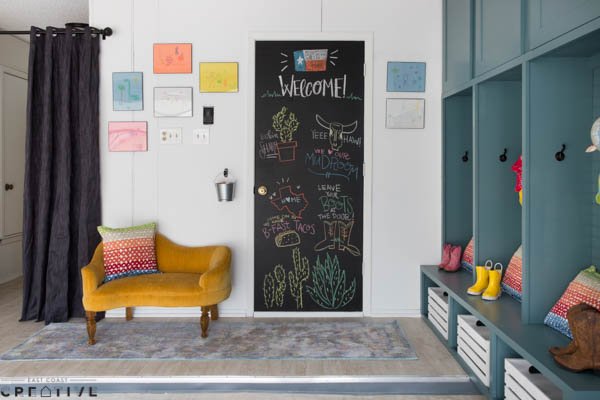 Before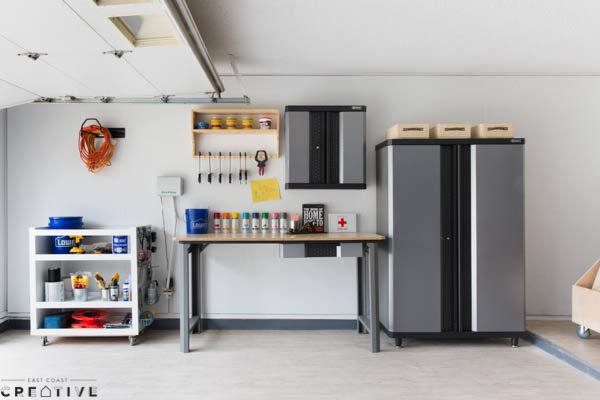 Talk about a transformation! This garage instantly went from unworkable and messy to super welcoming and totally usable.
In typical Weekender fashion, here are the 5 projects that made a major impact during these 2 days of work.
The biggest, and one of the easiest fixes in this garage was the walls. They were that old, 70's style wood wall paneling, and that was definitely making this garage feel too garage-y. Using a paint sprayer, we covered the walls and ceiling with HGTV Home by Sherwin Williams White Cotton paint, and what a difference that made! Seriously a thousand times brighter!
The white lightens and brightens this space is so many ways!
Since Jess and Alex don't park in the garage, we decided to cover their stained, dirty concrete floor with Stainmaster Washed Oak Vinyl Flooring. It comes in rolls, and you just roll it out, measure, cut and seal to the floor with an adhesive– kinda like wallpaper for your floor, but a really durable wallpaper. This vinyl flooring was slightly textured, and looked like weathered wood flooring, perfect for a mudroom feel, and it's a great surface for kids to play!
I might be biased because I have these in my mudroom at home, but these lockers are one of my favorite DIY projects. With some builder grade cabinets, plywood and hooks, you can have a totally custom, super expensive-looking mudroom locker unit.
These lockers are perfect for any garage or mudroom because of the storage options they have. Using stock cabinets at the top of the lockers to keep things out of the way, but in a safe place, the bench seating for the kids to tie their shoes in the morning, and the bottom cubbies for shoe storage. We used three of the Diamond White Shaker Door Wall Cabinets on top of the plywood locker base and finished them off with a fresh coat of HGTV Home by Sherwin-Williams Aquamarined, and you have a cute new piece of mudroom "furniture!" Depending on the width of your lockers, you might need to fill in some gaps in between your cabinets, and some of those excess cuts of plywood would work perfectly.
This is the perfect storage solution to any garage space, and it took us less than 30 minutes to build! Add some wheels, and you've got yourself a tool cart that can come outside with you to work or be rolled away for storage. The pegboards on either side of the cart allow for vertical hanging storage, and there are lots of attachment pieces like baskets, bins and hangers that pop right into the peg holes. There's really no excuse not to be organized now!
This project literally couldn't be any easier, just some bins and peel-and-stick labels! We picked up some white erase labels so the bins can be easily swapped depending on what you want to put in them. Pro tip to hiding your crap, don't get clear bins– that basically defeats the purpose of all your valiant organizing efforts.
We also built this shelf in about 30 minutes, and it can hold pretty much anything, including these blue bins. We went with two levels and measured based on the bins we were using, but this is a super easy project to customize to your specific needs. We painted the shelves the same white as the garage walls so it fit right into the space!
[print_responsive_thumbnail_slider id="20″]
There were so many goodies packed into this garage/mudroom, but here were some of the superstars…
This muli-purpose work table is a great for both Alex and Jesse– sturdy enough for a work table, and cleans off easily for crafting!
2. Kobalt 50-in Pre-Drilled Storage Rail
These storage rails free up table and floor space by utilizing the walls of any garage.
3. Kobalt 48″ Steel Wall Mount Garage Cabinet
The perfect storage to hide all of Alex's crap– I mean organize his tools… duh.
These all-purpose hooks are great for hanging bikes, scooters, gardening tools, power cords… pretty much anything you'd want off your floor, these hooks are there for you.
All in all, this mudroom makeover was a huge success, and now Jesse and Alex has a space where they can both get lots of work done, and watch the kids at the same time. Double purpose, and super cute might I add!
-Mon
Don't miss a single Weekender Episode of Season 2- You can watch all Season 1 + 2 Episodes right HERE!
*THE WEEKENDER SERIES IS A PAID COLLABORATION WITH LOWE'S HOME IMPROVEMENT. I'M THANKFUL FOR THE BRANDS THAT BELIEVE IN THE MISSION OF EAST COAST CREATIVE AND SUPPORT MY WORK!*