If you missed all the amazing projects in the first three weeks of CWTS, be sure to check them out below!
We've loved seeing all the projects that have been linked up to play along with CWTS each week!  This week we were thrilled to be introduced to Meesh and her blog
I.Meesh.U
I spent a long time on her blog last night and I just kept reading because her stream of consciousness writing style had me hooked!
We picked this project because we felt that everyone deserved to know the secret of how to get that super-cool, Restoration Hardware finish!
—————————————————————————————————————————————–
oh Restoration Hardware… how i love thee…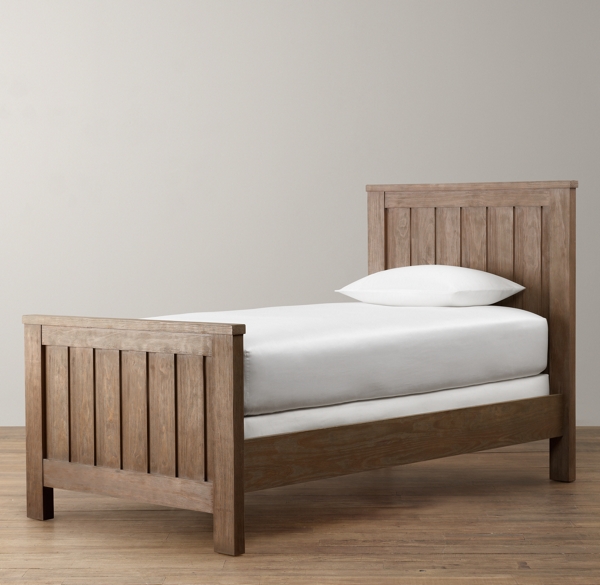 Restoration Hardware's Kenwood Bed
 Big A is currently in his converted crib. Problem is that he's getting too big for us to comfortably snuggle and read books in the glider. and sitting on the floor to read to him isn't fun. so mamma started searching for a new bed on craigslist…. and look what i found. a glossy white Pottery Barn-looking bed. the very nice fireman who sold it to me even delivered it for free.
here's the headboard in our garage. the pix are a bit dark, but you get the idea. glossy white paint on a well-constructed piece. the beauty about Annie Sloan Chalk Paint is that you don't have to sand or strip any varnish before starting. you just paint. and the paint just sticks. and you're just happy. and yes, i've heard the complaints about how expensive ASCP is, but really, when you take into consideration the time you've saved sanding, stripping, and priming, it all works out. AND, with the 4 quarts i purchased almost two years ago, i've probably painted out 15-20 pieces of furniture. yes.
looks a little girly with the white glossy paint, huh? so here are my steps to achieve the ever elusive Restoration Hardware distressed and weathered wood furniture finish:
using a 3″ brush, paint out the pieces in Annie Sloan's Paris Grey. make sure you get in all the cracks and crevices. you'll note that this piece is similar to a bead board, so there are lots of nooks and crannies. let dry.
using a mixture of MinWax water-based gray and dark Old English, brush on liberally on top of the Paris Gray. after a minute or so, wipe the mixture off with a rag, but don't wipe off 100% evenly. you want some of the pseudo-glaze to stick to the paint, creating some depth on the furniture. because this is a water-based stain, it's translucent and allows you to see the wood below it. the dark stain mixed in was intended to darken the color a bit.
in this experiment, i used about 1/4 cup MinWax, and 8 drops of the Old English. the above shot is taken without a flash and it looks more gray/brown. be sure you use the same mixture if you're remixing for additional pieces so that you achieve the same consistency and colors as you go.
in the above shot, i used the flash so that you could see that this glaze had more of a blue-ish gray hue.
go over all the pieces using a 220 grit sandpaper…very lightly, with the grain. play around with the pressure. i was trying to achieve a pseudo wood grain look, so kept my pressure very light to accomplish the right look without removing too much of the chalk paint.
then i brought out the Annie Sloan dark wax, my trusty gloves, and some soft rags. i generously applied the dark wax as i wanted a darker wood look.
what you'll notice about using the Annie Sloan dark wax is that you sometimes notice the brush marks. see in the above picture at the bottom center of the headboard? you see a dark area butted up against a lighter area. i've noticed this happens with AS wax…. but never fear! the product is so malleable that you can buff it out and even out the look with some #0000 steel wool and elbow grease. that's right…get those arms in shape by buffing and making the wax more even across your piece.
see how i was able to get rid of the sharp contrast between the dark and light areas on the headboard? fancy.
i LOVE how this piece turned out.
—————————————————————————————————
Thanks again Meesh!  And make sure you check back tomorrow for the reveal of the Grand Prize Round Projects!!  You're going to flip over them!!