Because we're always slightly afraid you'll get bored of our crazy antics, we have a treat for you today in the form of a guest blogger! If you don't already know her, Sarah from The Ugly Duckling House is stinkin' hilarious and super talented.
We love the design of her blog (which she did herself), the adorable pics of her splattered with paint, and her
magical touch with liquid gilding
. Enjoy!
————————————————————————————————————————–
Hi there!  I'm Sarah from The Ugly Duckling House, and I'm thrilled to be guest posting today on East Coast Creative!  I met Monica and Jess at the Haven conference earlier this year, and I think they come up with some of the most amazing projects!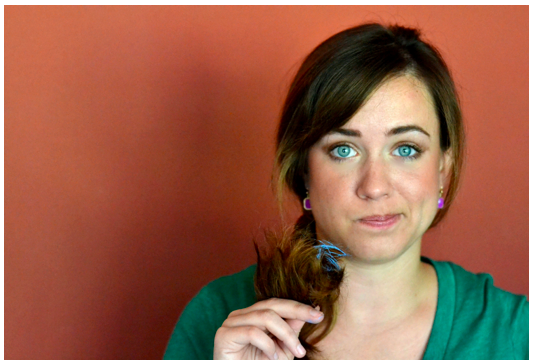 A little more about me:  
I'm awkward
.  I can't cook.  I hate cleaning.  But I
love
tearing my house apart and putting it back together again.  I've been working on my "Ugg-Duck" for nearly three years now, and I'm determined – hissy fits and all – to turn my 1980s eyesore into a home I can be proud of.  DIY-ing on my own isn't easy (especially with a full-time job and grad school on my plate), and I have had my fair share of weird stories with my house – like
finding fingernails in my fridge
.  Or
4 A.M. catfights
.  Or freaking out that I had a water leak in my brand new powder room… and realizing it was (possibly) a guest missing my toilet.  Yes,
that happened.
Right now, I'm working on
remodeling my bathroom
.  But at any given moment, I have at least five other unfinished projects around the house.  Sometimes when I'm in the middle of finishing up a full renovation, I use that momentum to give myself an extra push and do something smaller that I might otherwise put off – like my master bedroom jewelry organizer.
I've been spotting a lot of creative jewelry organization ideas on Pinterest, and even though I've been storing my jewelry neatly in a drawer in my closet, I realized I forget to throw on accessories when rushing off to work.  These Rationell inserts from Ikea are meant to add storage space to pantries and other cabinets, but I saw the decorative pattern on top and thought it could really look snazzy (& functional, too!) as a jewelry holder.
It was so easy, I could even (sort of) hold my camera steady while putting the project together with one hand.  Ha.  I just measured…
Marked (simply pushing the tip of the screw into the wall will save you extra pencil marks)…
… and sunk the first screw into place.
And this is where I realized I'd forgotten my level in the bathroom!  Ugh.  Thankfully, I had a nifty iPhone app with a level that I could use to make sure I kept things straight and even.
By placing the organizer in between my remodeled master bedroom closet and the master bath, I have a great new spot for my jewelry – and less of an excuse to bypass the accessories in the morning!
There you have it – a simple and inexpensive way to get your jewelry in a prime notice me and wear me spot.
Thank you so much to Jess and Monica for letting me stop by, and I hope you visit me (and whatever current mess I'm making) over at
The Ugly Duckling House
soon!
Sarah
————————————————————————————————————————–
Thanks so much for visiting, Sarah! You're welcome back in our houses anytime. 🙂