You want to know what we learned this year at the first ever
Haven
conference?
There are so many talented people in the world.
It's true. Every single blogger we met has unbelievable talent, was super cute (I'm not lying when I say that Monica and I left feeling old and frumpy!), and could not have been nicer. It totally felt like a huge family reunion (except that we had never met before!) Seriously, though, we attended some inspiring sessions, chatted with some of our favorite bloggers and enjoyed really fun BFF time, too! It started out with a smooth flight, a pricey cab to the hotel (60 bucks, one way!) and the discovery that the hotel had overbooked and that our confirmation was actually a pending notification. Booo. But the guys at the Crowne Plaza worked it out and we got a room (a nice one, I might add!)
Upon arrival, we met some of the Haven crew and received our swag bags. There were some pretty sweet finds in the bag, but our favs were definitely the Annie Sloan Chalk paint, Purdy paint brush, Kreg Jig Jr. and a stencil from our go-to stencil girls at Royal Design Studio. Score!
We attended six sessions total, each of them were taught by some blogging bigwigs- do you see that list below? Southern Rhoda, Tracie at Beneath my Heart, Beth from Home Stories A to Z, Sarah of Thrifty Decor Chick, and Myra from My Blessed Life We were SO thrilled to meet these ladies in real life and hear all the stuff they've learned through their blogging experience. We also spent time talking with vendors (Monica won 3 awesome paint brushes at the Annie Sloan chalk paint booth), and with business cards in hand, checked out all the blogs we hadn't read before, .
Rashon Carraway, aka Mr. Goodwill Hunting, rocked the Thrifting 101 session! Remember him from The Nate Show? We had fun sharing stories about our times on the show and how great the staff was to us. Good times, I tell you.
Sherry and John from Young House Love were the keynote speakers, and not only were they adorable, they were so down to earth, full of good tips and witty, to boot. Not fair. We loved their mindset about writing their blog, and their honesty about sort of stumbling into blogging fame.
We could have talked with Sherry the entire night. She's totally like the other best friend we wish we had.

We LOVED meeting so many people with similar passions as ours, and discovering awesome blogs we had never heard about. No one truly understands blogging except other bloggers, that's for sure.
Beth from Free Stylin' and Jamie from C.R.A.F.T
The highlight of our trip was meeting our blog mentor, Beckie. We've been chatting with her on the phone every week for the past few months. We knew she was insanely talented and driven, but we were so not prepared for how awesome she is in person! And drop-dead gorgeous. Her session about advertising had everyone buzzing about her. And for good reason! Love.that.girl.

Monica was really excited to meet her, and I was scared, I guess. Awkward, Jess, awkward.
And I'm sure you've all heard of Allison from House of Hepworths, but we were psyched to meet her since we were in the Blogging 2 Better collaboration with her the past 6 weeks.
Layla from The Lettered Cottage, taught a killer session on photo styling that rocked our picture-taking world. How she preps rooms for photos is genius, and even though we learned a lot, we're pretty sure that she has a creative eye that can't be duplicated.  I am a HUGE fan of hers, so was pretty excited that she sort of knew who we were (or pretended to, anyway!)
We also had the priviledge of hanging out a bit with Ashley and Whitney from Shanty 2 Chic. These girls make DIYing look amazing. A gorgeous, creative blogging duo.
And speaking of gorgeous-ness…take a look at Ana White building a rolling storage caddy in sky-high heels and tight cropped pants. Fabulous, isn't it? Makes us feel like we should maybe reconsider our t-shirt and sweatpants attire for DIYing. Or maybe not.
And finally, here's a shot of us fooling around at the
Homes.com
photo booth. Our new bloggy best friend, Karah from
The Space Between
, took this picture and we love it. And you'll love her. First of all, she lives in Curacao, and secondly she does great projects (just check out her
rooftop pallet bed
) and thirdly, she's a lot of fun to hang out with.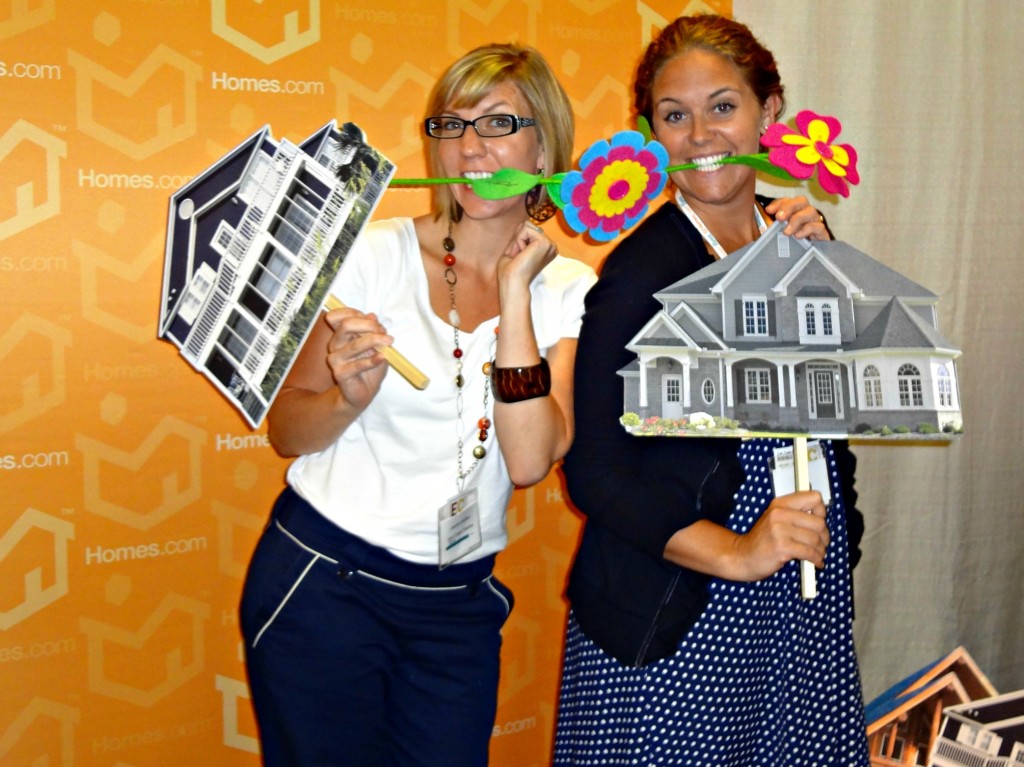 So that's our crazy recap! All in all we had as really fun time, and I can't say enough how much fun I have with Monica. It may actually be possible that two people share the same brain. Just sayin'. 😉
If you could meet one blog crush, who would you choose?